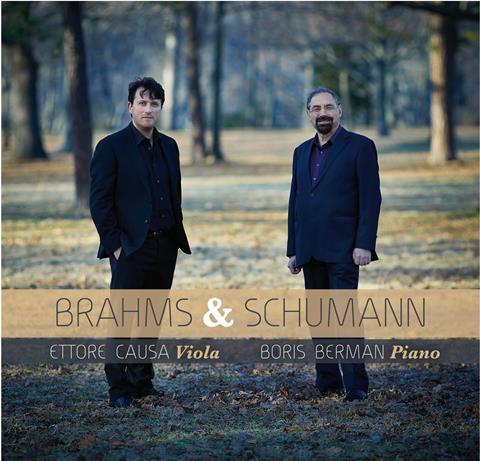 The Strad Issue: February 2016
Description: Characterful playing of persuasive transcriptions for viola
Musicians: Ettore Causa (viola) Boris Berman (piano)
Composer: Brahms; Schumann
Schumann probably brought it upon himself when he allowed his late chamber music to be published in versions for different instruments.
On this disc, violist Ettore Causa plays pieces by Schumann for oboe, clarinet, horn and violin. He makes a convincing case for them, too, with characterful playing that reflects the inherent melancholy of the composer's late output.
For the most part, the transcriptions require only small adjustments, mainly the choice of octave in which to play. In Bruno Giuranna's arrangement of the Fantasiestücke, the various episodes are carefully placed in the most convenient register and the transitions are perfectly seamless. The other arrangements, by Causa himself, don't always avoid an awkward turn of the melodic line. But this is nothing to worry about: most register changes would go unnoticed unless one were intimately familiar with the original (or following a score).
The recording, made in Sprague Hall at Yale University, where Causa teaches, is faithful to the consistently beautiful tone the violist conjures from his instrument throughout its range. In Schumann's lovely Intermezzo, a violin piece played entirely at the original pitch, Causa soars happily way up on the A string. However, the recording balance has him rather up front, sometimes to the detriment of Boris Berman's eloquent pianism.
Carlos María Solare