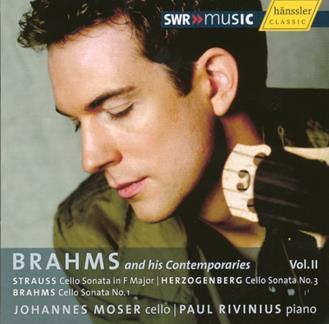 The Strad Issue: January 2008
Musicians: Johannes Moser (cello) Paul Rivinius (piano)
Composer: Strauss, von Herzogenberg, Brahms
Occasionally history deals composers an unfair hand. To some extent Heinrich von Herzogenberg comes into this category; certainly his strongest works such as the Second Piano Trio and First Cello Sonata are not only fluent but have striking invention. But the third sonata suffers from lacklustre material. Johannes Moser, however, proves a trusty advocate, eloquently nurturing its phrases and ensuring the musical impetus is maintained. His artistry is better placed in Strauss's Sonata. Composed when the composer was only 18, this work displays Mendelssohnian precocity and vivid freshness. Moser's use of vibrato is subtle, giving flexibility to the melodic invention without a whisper of mannerism. Moreover he judiciously paces the Andante to give direction to the slightly static feel of the music's essential lyricism, though this doesn't prevent him from enjoying the soaring melodies. Even the somewhat dislocated conclusion always has a strong narrative. Both artists fully convey the cheeky, whimsical character of the finale – a truly joyous affair.
Placing established works in their contemporary context is an interesting exercise. In this instance Brahms appears a towering figure, the weighty first movement of the E minor Sonata sealing the imprimatur of greatness. In this remarkably clear recording Moser and Paul Rivinius are at great pains to maximise textural lucidity, with the cellist opting for lean vibrato and the pianist ensuring a careful use of the pedal. The finale benefits particularly from this treatment, with the result that contrapuntal lines have transparency. At the same time, though, the musicians communicate all the music's excitement and bravura.
Joanne Talbot