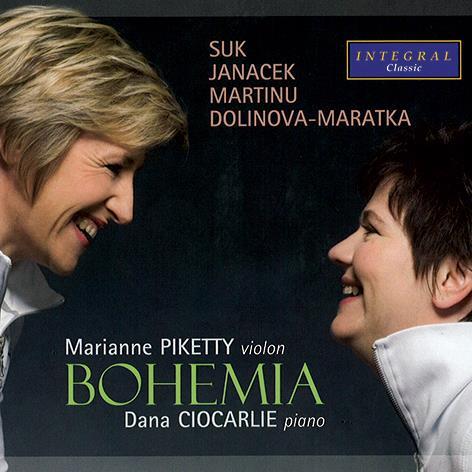 The Strad Issue: January 2011
Description: A generally successful recital of Czech violin repertoire
Musicians: Marianne Piketty (violin) Dana Ciocarlie (piano)
Composer: Janácek, Maratka, Martinu, Suk
French violinist Marianne Piketty and Romanian pianist Dana Ciocarlie interpret a carefully chosen Bohemian and Moravian programme impressively. My only query concerns Piketty's very personal tone, incorporating quite a wide vibrato, but it suits the repertoire.
Piketty takes a Romantic approach to Suk's near-sonata, with sensitive phrasing and much well-managed portamento. Both players are very accurate and take tempo changes in their stride. The Burleska has good bouncy rhythm.
Janá?ek's Sonata receives one of its best non-Czech performances. Ciocarlie's pianism sounds crisp and authentic, a great plus, and both players have an uncanny feeling for the filmic cutting from one idea to another. Piketty is wistful in the Ballada, rhythmically precise in the Allegretto and tonally resourceful in the Adagio – which should have been separately tracked on the CD.
Martinu's great Third Sonata is a triumph, even though Piketty's intonation comes under pressure a few times. The busy Poco allegro is nicely sustained, its slower interludes well integrated; the Adagio begins easily and naturally, gaining gravitas as it proceeds; the Scherzo dazzles; and the Lento start to the finale is serenely played, before the return to business as usual.
Janá?ek's early Dumka is anodyne, but Krystof Maratka's Czardas III is in the true gypsy tradition. Fine recordings.



TULLY POTTER