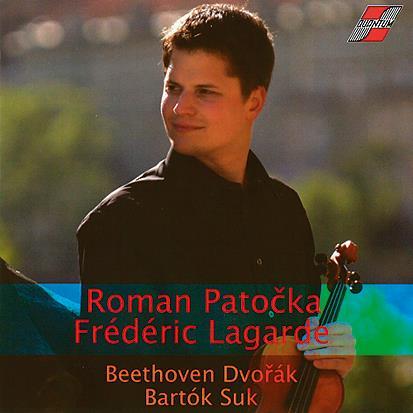 The Strad Issue: January 2009
Musicians: Roman Pato?ka (violin) Frédéric Lagarde (piano)
Composer: Beethoven, Dvorák, Suk, Bartók
Czech violinist Roman Pato?ka (b.1981) bravely opens his recital with the most cryptic of Beethoven's ten violin sonatas, a work that looks forward to the Elysian spirituality of the late-period masterpieces, yet does so via a series of neo-Classical formulations reminiscent of his first set of three sonatas op.12. Not only does Pato?ka demonstrate an exceptional awareness of the sonata's genial nature and nostalgic enchantment, but he also subtly tames his sound to a lithe, clear-focused purity, thereby creating the ideal sound world for this cherishable masterwork.
Dvo?ák's F minor Romance is another work that responds best to a relatively lightweight sound, and here again Pato?ka sustains a jewelled tone at all dynamic levels, from the merest whisper to impassioned outbursts of heightened emotional intensity. Frédéric Lagarde accompanies with such beguiling grace and sensitivity that one barely misses the more familiar orchestral backing.
The third and fourth of Suk's op.17 Pieces are Perlman specialities (his classic accounts can be found on an EMI Gemini collection of encores), and although it would be unreasonable to expect Pato?ka to rival the American's nonchalant swagger and tonal luxuriance, in the context of this complete set his youthful command and passion still make a considerable impact, enhanced by the clear, up-front recording which captures every tiny nuance. Arguably finest of all is the Bartók First Rhapsody, which is so often dispatched with forced, percussive relish, but here (in the second half) becomes a true peasant dance of swirling, high-kicking good humour. Pato?ka's is definitely a name to watch out for.
JULIAN HAYLOCK