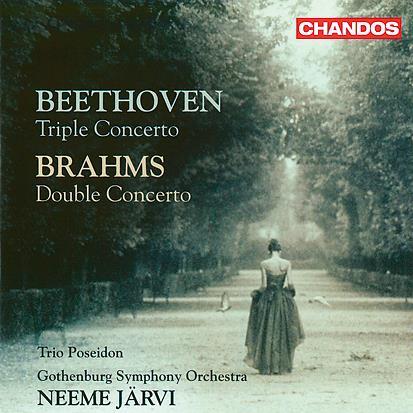 The Strad Issue: January 2010
Musicians: Trio Poseidon, Gothenburg Symphony Orchestra/Neeme Järvi
Composer: Beethoven, Brahms
This 'Triple' Concerto has the immediate benefit of?soloists – violinist Sara Trobäck Hesselink, cellist Claes Gunnarsson and pianist Per Lundberg – who appear on a regular basis as the Trio Poseidon alongside their individual concert careers, which ensures that unanimity of phrasing and interplay between instruments is naturally achieved in this joyful and youthful account. With the cello singing its tender song, the central Largo is simplicity itself and contrasts well with the bubbly approach to the outer movements, the piano dancing around the?sweet quality of the strings.
Brahms's 'Double' Concerto is a very different matter, for this is a score that requires outgoing soloists to carry the listener along on a wave of spontaneous-sounding exhilaration. Hesselink and Gunnarsson are certainly a well-matched duo who are never short of eloquence, though in the outer movements they work on a much lower level of emotional intensity than is found, for instance, in the outstanding Stern–Rose–Ormandy partnership (Sony). Still, there is much to enjoy in the poetry of the central movement, and through both works Neeme Järvi draws superbly detailed playing from the Gothenburg orchestra. Although rather focused on the soloists, the recorded sound has admirable impact.


DAVID DENTON