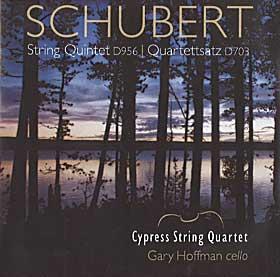 The Strad Issue: January 2012
Description: Technically refined performances that come across as just a little too ordinary
Musicians: Cypress Quartet
Composer: Beethoven
Defining Beethoven's late quartets as touchstones of the greatness of Western civilisation has become a cliché, but this admirably clear and straightforward set of recordings by the Cypress Quartet further enforces this conventional wisdom. Formed in San Francisco in 1996 from members of the Juilliard School, Guildhall School of Music and Drama and the Royal College of Music, the ensemble has won acclaim in particular for its sound, and these discs are no exception.
Free from performance eccentricities, the accounts here are clear and crisp, beautifully balanced and, apart from some localised moments of poor intonation in the first movement of op.130, are technically near perfect. Of this quartet, the disc provides both the original Grosse Fuge op.133 finale and the alternative, later ending which, despite crisp playing, pales into insignificance by comparison.
The approach here is one of letting the music speak for itself, and it frees the performances from any undue saccharine tendencies. In common with most present-day players, there is a restrained use of vibrato that rescues slow movements from undue sentimentality, and this works well in the second movement of op.130 – a movement that, to me, exercised so much influence on Felix Mendelssohn. This uncluttered approach can, however, result in slightly peremptory renditions. The opening Adagio of op.131 is taken at a brisk tempo, but this can make it sound pedestrian, while the finale of op.132 could embody a more yearning quality. Op.135 as a whole sounds oddly underwhelming (though the playing is unobjectionable), while the first movement of op.127 could be seen as a little strident and unpoetic. We have come to expect something special – almost spiritual – to come out of our listening to these works and it is thus a little disappointing to find a degree of ordinariness in this set of discs, notwithstanding their technical mastery otherwise.
Having said this, if you like your Beethoven to be clearly stated, then this set has much to commend it. The recording quality is good, and the set is, for the most part, admirably consistent.



David Milsom