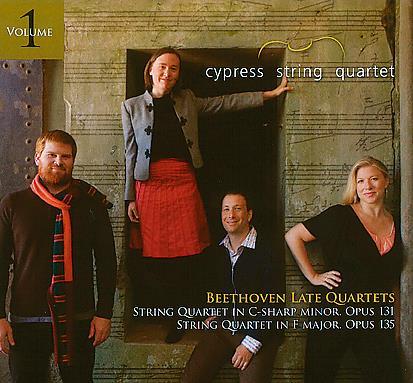 The Strad Issue: January 2009
Musicians: Cypress Quartet
Composer: Beethoven
From one of the growing number of performer record labels, the American-based Cypress Quartet makes a most auspicious opening to its planned series of Beethoven's late quartets. The players began their journey towards this cycle since they first began working together in 1996, and after a long gestation period they have arrived at performances that never set out to surprise or shock, but are free of affectation and the encrustations of tradition.
Their opening to the C sharp minor Quartet evokes the sad and desolate world that Beethoven must have felt in deafness, but one that is not without the warmth of humanity. It sets the scene for a reading that has vivacity in the short second movement, but sings with melancholy in the long central Andante, and even the little dance towards the close cannot find happiness. I have heard cleaner intonation in the Presto and the angry closing Allegro, but technically this is generally very accomplished playing.
By contrast the players seem intent on finding good cheer in the F major Quartet. The inherent beauty of their tone modifies the music's sorrow in the Lento assai, before they join Beethoven in a final mood of defiance. Excellent sound quality.


DAVID DENTON