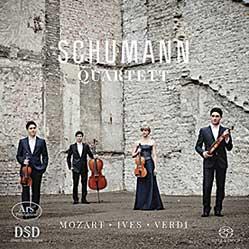 THE STRAD RECOMMENDS
The Strad Issue: January 2014
Description: An impressive first disc from a young German quartet
Musicians: Schumann Quartet
Composer: Beethoven, Bartók, Brahms
The three Schumann brothers, Erik, Ken and Mark, and violist Ayako Goto came together in 2007, and after awards in several competitions, their ensemble has emerged as one of Germany's most talented young string quartets.
Taking a very literal and uncomplicated path through the early Beethoven quartet, the players follow the dynamic and tempo indications to the letter of the score without ever entering into the extremes that generated such excitement in the characterful recording from the Lindsays (ASV). Their scherzo, as we would expect, is full of youthful charm, and they resist the temptation to dash through the finale.
A hard-hitting approach to much of Bartók's Third Quartet benefits from the perfectly balanced inner voices that are essential in creating the multitude of tonal colours. Again they faithfully adhere to the score, if just living a little dangerously in their whispered pianissimos.
Stylistically, the players move from rhythmic rectitude to the warmth and pliability needed for Brahms, where the outer movements receive an unusually fiery and powerful reading. Yet in the music's cajoling songfulness, at the heart of the work, they produce playing of loving lyricism.
Technically, the playing is immaculate throughout, and captured in outstanding sound quality, making this a most auspicious disc debut.


Clip: Beethoven String Quartet in G major op.18 no.2: 3rd movement – Scherzo–Allegro
DAVID DENTON