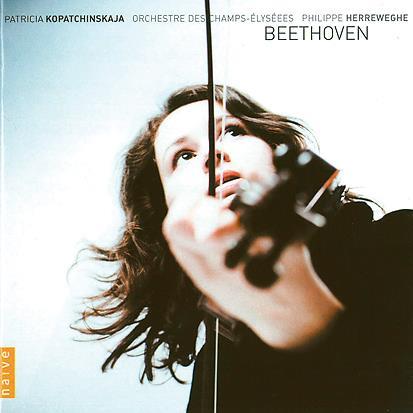 The Strad Issue: January 2009
Musicians: Patricia Kopatchinskaja (violin) Orchestre des Champs-Elysées/Philippe Herreweghe
Composer: Beethoven
Patricia Kopatchinskaja first caught my attention with a coruscating 'Kreutzer' Sonata, in which she was partnered by Fazil Say. Her next Beethoven project could hardly be more different: using an instrument in period set-up, she has recorded the music for violin and orchestra, trying to come as close as possible to the delicate style of Franz Clement, first performer of the D major Concerto.
I think the disc is a considerable success, the best 'authentic' version so far, although Kopatchinskaja's natural exuberance surfaces from time to time, especially in the cadenzas. At those moments I suspect she is closer to the style of a 'natural' fiddler such as the quartet leader Ignaz Schuppanzigh.
Tempos are shockingly fast at first hearing. The opening tutti takes on the character of a Prussian march in Herreweghe's hands and I am not sure I shall ever like it. The solo playing is lovely, however. Contenting herself with a small, true sound, Kopatchinskaja achieves a wonderfully 'inward' quality at all the important points in the first two movements. Her passagework is quite rhapsodic.
The cadenzas are her own transcriptions of those Beethoven wrote for the piano version of the concerto. Not even Pollini has inured me to that version, and I cannot think that Beethoven would have wanted these cadenzas used by a violinist (pace Schneiderhan et al). Worse, Kopatchinskaja uses over-dubbing to put in the piano's counter-melodies, introducing a note of artificiality. I must dissent from my colleague Robin Stowell's view that these cadenzas 'are the nearest we have to Beethoven's ideal'.
The Romances and the C major torso, played as a fragment with no editorial 'ending', are beautifully done and the recordings are first rate.
TULLY POTTER