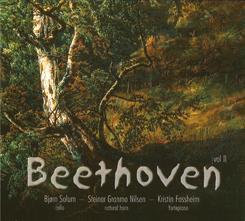 The Strad Issue: January 2012
Description: Raw but vital performances from a Norwegian cellist
Musicians: Bjørn Solum (cello) Steinar Granmo Nilsen (natural horn) Kristin Fossheim (fortepiano)
Composer: Beethoven
Both the cello and the natural horn had limitations as solo instruments at the turn of the 19th century. Add to that Beethoven's need to promote his keyboard skills in order to garner accolades from a royal patron (in the case of the G minor Sonata), and you have the setting for some challenging solo writing, in which the keyboard's partner has to make its mark by dramatising every gestural instruction in the score. These performances really go to town in this regard and eschew any sanitisation of character, in the process celebrating a certain rawness: the forte–piano dynamic is exactly that, while the sforzandos pack a real punch and everything is vital and rhythmically taut.
Occasionally in the higher registers of the C major Sonata, the cello is fractionally wayward in tuning, but Bjørn Solum's interpretation overall is poignant in the slow sections and vibrant in the allegros. These qualities also imbue the G minor Sonata, where the heroic, Handelian opening is sensitively depicted and the ensuring Allegro has a Haydnesque brusqueness. This ambiently recorded duo brilliantly encapsulates the omnipresent Sturm und Drang elements in the witty and turbulent Rondo.
Steinar Granmo Nilsen is a little freer in regard to tempo fluctuations at cadential points in the Horn Sonata, which lend a spontaneity that is in keeping with the interpretative aesthetic of this recording.



Joanne Talbot