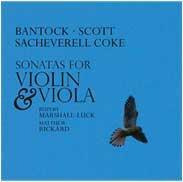 The Strad Issue: January 2014
Description: Welcome airings of long-forgotten British sonatas for violin and viola
Musicians: Rupert Marshall-Luck (violin/viola) Matthew Rickard (piano)
Composer: Bantock, Scott, Sacheverell Coke
It's always heartening to see efforts to revive the works of lesser-known, or even long-forgotten British composers, and to that end alone this release of mid-20th-century sonatas by Granville Bantock, Cyril Scott and Roger Sacheverell Coke is a welcome one. Three years in, and EM Records – run by Em Marshall-Luck, founder–director of the English Music Festival – has close to 20 issues focusing on the 'golden renaissance of English music'. As Rupert Marshall-Luck observes in his detailed (sometimes too much so) booklet notes, there is 'little superfluity' in Bantock's Violin Sonata no.3.
But where the construction may be deft, there's little satisfying material, certainly in its first movement. The mysterious chromaticism of the second movement ('The Dryad'), though, is well revealed by both players, even if the finale could take a touch more crispness and exuberance.
Both the remaining pieces are thoroughly rewarding, as musical discoveries and as performances. Marshall-Luck captures well the beguilingly dark tinge to Scott's highly chromatic, post-Romantic, texturally dense Viola Sonata. And Sacheverell Coke's wartime Violin Sonata no.1, equally absorbing but more linearly driven, receives an equally committed performance. The recording allows a good balance between detail and cohesion.
Edward Bhesania