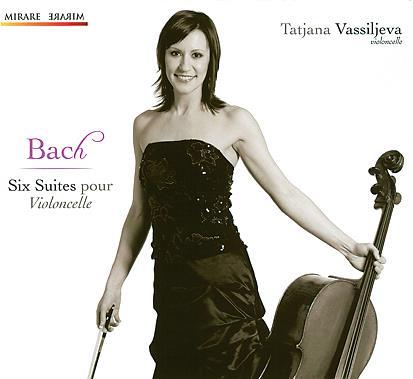 The Strad Issue: January 2009
Musicians: Tatjana Vassiljeva (cello)
Composer: Bach
The Bach cello suites beckon to all cellists as Everest does to mountaineers. Part of the compelling attraction of both performing and listening to these works lies in the spiritual and ethereal qualities encased in the counterpoint. Yet they are ostensibly dances, a feature that Tatjana Vassiljeva is always aware of in this clear and ambient recording. Her self-effacing and natural view synthesises modern and period aspects of performance, and she delivers the music with a technically immaculate execution. Add to that an intelligent reading of the underlying harmony and the overall achievement, set against a very crowded sphere of interpretations, is impressive. There are, however, a few minor caveats, particularly in the later suites. For example, the Prelude of no.4 seems too detaché, and requires a more obvious sense of flow, although the improvisatory quality of the middle section is effectively drawn. Similarly the same suite's Allemande is perhaps a little too deliberate.
In the sarabandes it's always problematic encompassing both the slow dance metre and the music's innate poetic qualities. By and large Vassiljeva strikes a good balance, but in the Fourth Suite the way her tone falls away from each dotted quaver impairs the melodic line. A similar problem affects the Sixth Suite where the homophonic latter half of the Sarabande becomes laboured and stodgy. These points are however relatively minor; the Prelude of the Sixth Suite is given a searingly compelling rendition, while the bourrées have fervent rustic vigour. In essence there is a great deal to recommend in this recording.



Joanne Talbot