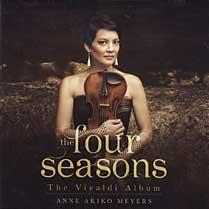 The Strad Issue: January 2012
Description: Successful Bach performances that eschew period fashion
Musicians: Anne Akiko Meyers (violin) English Chamber Orchestra/Steven Mercurio
Composer: Bach, Bach/Gounod
Anne Akiko Meyers's robust, incisive and uncomplicated performances of Bach's two violin concertos go back to a style of playing that pre-dates today's fashion for period authenticity. By adding a judicious degree of vibrato, Meyers produces a round, warm tone, allowing her clarity of articulation and impeccable intonation to be enjoyed in unhurried tempos. While never indulging in dynamic extremes, she prefers to keep her solo role above the orchestra, when it is becoming increasingly fashionable to melt into the instrumental texture at appropriate points. In this approach she finds an admirable partnership with the English Chamber Orchestra and the American conductor Steven Mercurio.
For the Double Concerto she partners herself by dubbing in the second violin at the editing stage. Using her two Stradivari violins – the 1697 'Molitor' and the 1730 'Royal Spanish' – her tonal difference is sufficient to convince that there are two performers involved. The interpretation is in much the same style as the solo concertos. The disc's overall atmosphere is set by the opening Air, and it closes with a performance of Gounod's Ave Maria arrangement that recalls the palm court orchestras of my youth. The reverberant warmth of the recording ideally complements the playing.
DAVID DENTON