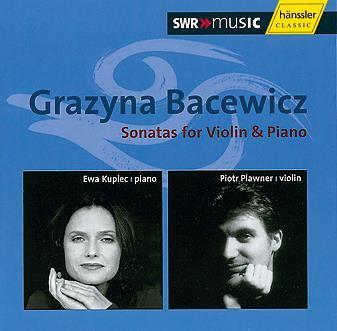 THE STRAD RECOMMENDS
The Strad Issue: January 2007
Musicians: Piotr Plawner (violin) Ewa Kupiec (piano)
Composer: Bacewicz
The Polish composer Grazyna Bacewicz was herself a violinist of distinction, who studied with André Touret and Carl Flesch, as well as mastering composition with Nadia Boulanger. Bacewicz's maturity shines through: she knows the violin inside out, how to make it sing, how to achieve maximum impact and atmosphere without undue reliance on showy special effects and, not least, how to write exciting but manageable fast passages for the instrument.
Piotr Plawner, the superbly gifted violinist here, is doubly fortunate in his skilled fellow-performer, the sparklingly intelligent, constantly alert Ewa Kupiec. This well-matched pair respond to each other with flair and evident enthusiasm for the music.
Several Bacewicz works have a Baroque underlay – not just the Partita and the Caprice, but certain sonata movements too, such as the finale of Sonata no.2. Both players excel in the scherzos – a Bacewicz speciality – particularly the brilliantly offhand scherzo of Sonata no.4 and its impish equivalent in Sonata no.3.
Yet it is Bacewicz's shorter pieces that produce some of the most magical moments: a charming and witty Humoreske, spiritedly performed; a beautifully affecting Kolysanka (lullaby) tinged with melting harmonics; and a gorgeous slow Oberek, or folk dance. The performances are warmly idiomatic, and Plawner's unrushed pacing always permits the music to breathe naturally. Easily the most beguiling item is Witraz (Glass Window), the earliest of these pieces, which dates from 1932. Bacewicz's music is warm and approachable, and both the agreeable recorded sound and the fine, sensitive readings on this generous double disc do her proud.
Roderic Dunnett