The Polish-Israeli violinist and Auschwitz survivor died on 4 July in Paris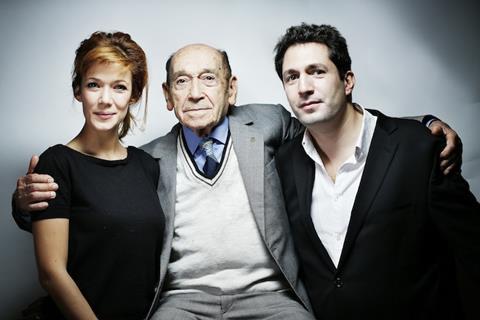 Haim Lipsky was born in 1922, the youngest of eight children in a poor family in Łódź in central Poland. He developed a love of classical music and especially the violin, sneaking into Łódź Philharmonic concerts to hear the likes of Joseph Szigeti and Bronisław Huberman. A local shoemaker gave the young Lipsky a mandolin, which he taught himself to play, before saving up to buy his first violin. With the help of street musicians he developed a prodigious gift for the instrument.
Following the Nazi invasion of Poland in 1939, the Lipsky family was confined to the Łódź Ghetto which, due to its industrial infrastructure and productivity, was the last ghetto in German-occupied Poland to be eradicated. Eventually, however, Lipsky was sent to the death camp at Auschwitz-Birkenau where he was saved by his talent for the violin and joined the camp orchestra. As the Soviet army approached, Lipsky was able to escape a death march and find his way to a refugee camp.
There he met another survivor, Dorka, who became his wife. In 1948, together they moved to Haifa in Israel, where Lipsky trained as an electrical engineer, a profession that he pursued until retirement. He instilled a love of music in his children Arie and Shifra, and himself played in a local orchestra until just months before his death.
He didn't return to Poland until 2007 for a concert at the Jewish cemetery in Łódź in memory of the 190,000 ghetto residents who died there and in the camps – a concert conducted by his son Arie, who has been music director of the Ann Arbor Symphony Orchestra since 2000. His daughter Shifra is also a musician, educator and music therapist, and there are musical grandchildren too, including Shifra's son, the violinist Naaman Sluchin.
A play based on Lipsky's life, Haïm, à la lumière d'un violon, written and directed by Gérald Garutti, was premiered in 2012 at the Théâtre d'Arles and has been performed at numerous locations in France and Switzerland including a run at the Salle Gaveau in Paris in 2014 and, in an English translation – Haim: In the Light of the Violin – at the Print Room in London in June 2016.
Photo: Haim Lipsky, centre, with actor Mélanie Doutey and playwright/director Gérald Garutti in 2013, photographed for the production of Haïm, à la lumière d'un violon © Olivier Roller