Strad readers submit their problems and queries about string playing, teaching or making to our experts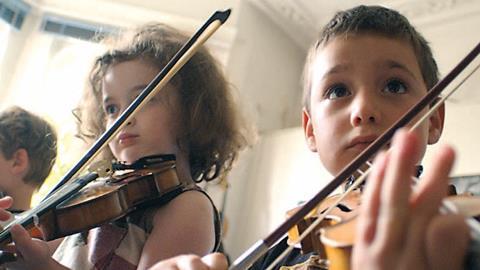 Should a beginner violinist get involved in a school's group teaching class if the tutor in question happens to be a cellist? Three pedagogues debate the pros and cons
Do you have a burning question about string playing, teaching or making that you need answering by people who really know? Email us at thestrad@thestrad.com
The dilemma My seven-year-old daughter has just started learning violin at school, but she is part of a group class and the teacher running it is a cellist. Should I be worried that she won't receive the training she needs to start her out properly? I am wondering if I should enrol her in private lessons instead. AMANDA KILSBY, STOKE-ON-TRENT, UK
MIMI ZWEIG I am a firm believer in the principle that the most important violin lessons are the very first ones, and should be given by a trained violinist who loves to work with children. The ideal situation is a combination of a weekly private lesson coupled with a group class. The first lessons set the foundation for years to come by establishing a natural violin position, understanding pulse and musical structure, and feeling the joy of music. In the private lesson the teacher can capitalise on three of our five senses necessary for learning how to play the violin: hearing, touch and sight. The teacher can physically guide the student's hands, sing and demonstrate, all creating a complete environment. Since we are creatures of habit every physical action we initiate is ingrained in our system. It is better to instil the correct motions from the start, as it takes many repetitions to create new pathways. With private lessons, a level of expectation of accomplishment is set weekly, which encourages students to practise. Also, playing the violin at a good level develops a sense of confidence, high self-esteem and accomplishment, which are crucial factors for nurturing the next generation.
Group classes are fun, motivating and educational. At the Jacobs School of Music String Academy the group classes are divided into three sections: playing together (learning the skills of ensemble, intonation and musical phrasing), performing solos for each other, and ear-training. The biggest problem with only having group classes is that the teacher does not have enough one-on-one time with each student. (It is interesting to note that most academic activities can successfully be taught in classes and these classes can produce the likes of Nobel Prize winners, famous actors and ballet dancers – but not violinists.)
SARAH QUINN I was eight years old when I started having violin lessons. Although this may be considered a late start by many, I was certainly not ready for an individual violin lesson. Every child is unique and will respond in different ways, but I loved having a group lesson. I started out in a group of six, then a group of three, and it was only after six months of group tuition that I moved on to individual lessons. Being part of a smaller group of three was set as a goal by my teacher, and it was a huge confidence boost when I attained this. Likewise, being considered ready and good enough for an individual lesson felt like a big achievement for me.
One of the benefits of learning as a group is the introduction of ensemble playing very early on. This is a hugely valuable experience for children – waiting your turn, respecting your peers, and listening to others. I couldn't read music very well and I was pretty much starting from scratch with my violin lessons. So a lot of what I was learning in the beginning was through listening and repetition, and this was much easier with the support of a group. However, group lessons do not suit everyone. Some children find it more difficult to focus and concentrate better with individual attention. A less confident child may feel daunted by a group environment and benefit more from individual training.
Having violin lessons from a cellist is not very unusual, especially in a school environment. If your daughter enjoys the violin, feels inspired and is progressing, then you need not worry. If, however, you or your child feel that the lessons are not going well, then it may be time for a change.
PATRICIA NOALL Learning an instrument in a group can be fun at a young age. In my very early years of teaching for a local authority I was required to take classes consisting of three or four pupils at a time and the interaction and enthusiasm between the children was wonderful. However, it soon became apparent that progress among them started to vary tremendously and that 'one size does not fit all'.
Playing a stringed instrument is an extremely complex process and we are all different. Suzuki training has, it seems, become very adept at coping with this and I take my hat off to the successful teachers, but I have had to pick up the pieces (or, should I say, 'unpick' the pieces) of some of the pupils who have come my way. The previous training of several young players has sometimes shown a chronic lack of initial care in nurturing good use of the body when playing. Any bad habits that become ingrained in our formative years are certainly very hard to eradicate later – in our early teens, say.
So, in answer to your question about the group teacher being a cellist: the fact is, no matter how conscientious they are, fundamentally their instrument rests on the floor and is held between the knees, not on the shoulder (a completely different kettle of fish). My advice would be to find an experienced violin teacher who can watch and guide every stage of your daughter's development, while still making it fun. Add to this as soon as possible, and find opportunities for playing with other children outside the individual lesson, to put into perspective reasons for playing in the first place, which is to make music.
Mimi Zweig is professor of violin at the Jacobs School of Music and director of the school's String Academy in Bloomington, IN, US: bit.ly/2nnl4BH
Sarah Quinn, a member of the London Symphony Orchestra since 1998, works extensively with young musicians in schools, youth orchestras and conservatoires: www.lso.co.uk
Patricia Noall teaches at South West Music School in Bristol, and has been a specialist violin/viola teacher at Wells Cathedral School and Junior Guildhall: www.swms.org.uk
Read: Ask the Experts - how to teach a group of violin students
Read: Group instrumental lessons can provide opportunities not offered by one-to-one teaching