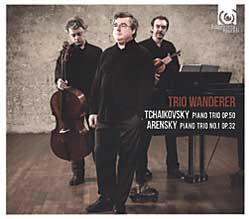 THE STRAD RECOMMENDS
The Strad Issue: January 2014
Description: Ardour and restraint in perfect harmony in performances of two Russian trios
Musicians: Wanderer Trio
Composer: Arensky, Tchaikovsky
The Wanderer Trio performs these works with all the Romantic expression they deserve, tempered with admirable musical intelligence. Arensky's Trio sets off with dash and a good dollop of rubato, very much a feature throughout. There is playful delicacy in the development of the first movement, and the scherzo that follows is clipped and debonair – the suave central section comes straight from a St Petersburg tea room. An expressive elegy lies at the heart of the finale.
Tchaikovsky, writing the trio he swore he never would, asks the artists to play their hearts out, with many an extreme marking along the way: sempre fff, marcatissimo. It can, and sometimes does, become too much of a good thing. The Wanderer Trio wisely reigns him in. Certainly there is passion in the first movement, but it is also supple and elegant, with a bleak and understated ending.
The first part of the second movement is similarly simple and restrained: the waltz variation has winning ease and charm, and the fugue has lightness and clarity. Even in the finale the players maintain a sense of scale, so that the mighty return of the trio's opening theme has a real sense of tragedy unleashed. This is a superb disc, beautifully recorded.
Clip: Arensky Piano Trio no. 1 - 2nd mvt
TIM HOMFRAY