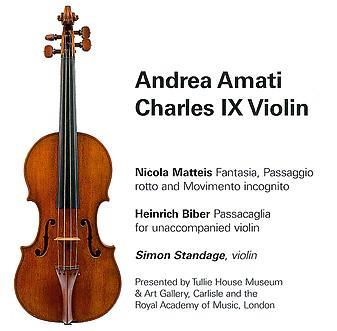 The Strad Issue: January 2007
Musicians: Simon Standage (violin)
Composer: Matteis, Biber
The focus here is more on a rare Andrea Amati violin housed in the Tullie House Museum, Carlisle, than the music or its interpretation. Nevertheless, the clarity of Simon Standage's mellow, expressive accounts of unaccompanied pieces by Matteis and Biber ensures a thorough appreciation of this well-preserved instrument, one of the few survivors of a set from the Chapelle Royale in Versailles commissioned in 1564 for the 14-year-old King Charles IX (See The Strad, June 2005).
Standage discovered that this instrument is most responsive at a tuning a semitone higher than nowadays. The evidence can be heard in his readings of Matteis's Fantasia, in which he brings out the largely two-part imitative texture with striking flexibility and sonority, the fast divisions and chordal playing in the same composer's Movimento incognito and the rapid decorative passagework and long-held notes of his Passaggio rotto. Biber's Passacaglia, too, is performed with remarkable power and virtuosity.
ROBIN STOWELL