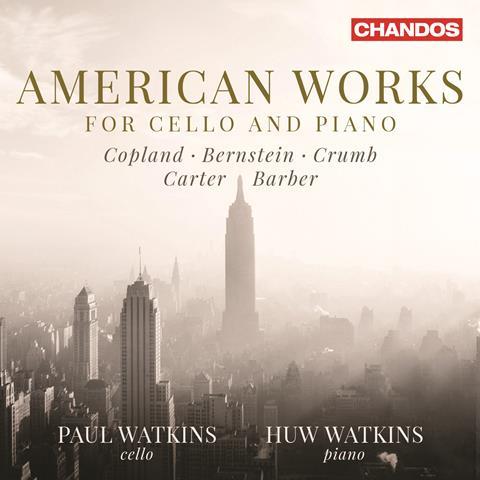 The Strad Issue: February 2016
Description: Crumb and Carter stand out in a recital of cello Americana
Musicians: Paul Watkins (cello) Huw Watkins (piano)
Composer: Barber; Bernstein; Carter; Crumb; Copland
Midtown Manhattan skyscrapers swirling in the city mist: the cover art framing Paul and Huw Watkins's album of stateside cello and piano works serves up a reassuring slice of Americana. Samuel Barber's Cello Sonata (1932) defaults to an all-purpose post-Brahmsian Romanticism and never did sound very American, even in William Cole's much-admired 1973 recording. But Paul Watkins adds an unfortunate layer of rhapsodised sweetness to an already over-ripe score. Barber's middle-movement Adagio buckles under the strain.
The Three Meditations Leonard Bernstein extracted from his 1971 theatre work Mass and two selections from Aaron Copland's Billy the Kid fare better because the material is self-policing. A pity, though, about the conservatoire-like refinement in the Bernstein, which doesn't feel especially sympathetic. 'Fast and primitive', he wrote during the last movement. Not so here.
Elliott Carter's 1948 Cello Sonata stands out from the crowd, the Watkins brothers clearly feeling at home as they unpick Carter's rhythmic calculus. Chandos's as-though-you-were-there vividness stresses the work's stark and brooding inner tensions. George Crumb's 1955 Sonata for Solo Cello is an early work but Paul Watkins embraces the mood changes that would become a feature of the composer's mature music. The Toccata finale offers a contained implosion, elastic rhythmic flow spilling everywhere. It's a standout moment in an otherwise qualified success.
Philip Clark