A modified beechwood that gives ebony a run for its money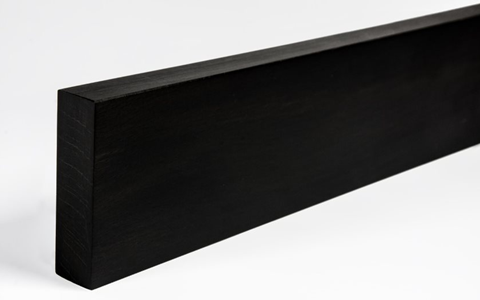 The use of ebony for fingerboards, tailpieces, pegs, endpins and chin rests in instrument making has long invited questions about ethical and environmentally friendly sourcing. Swiss start-up company Swiss Wood Solutions claims to have developed a new beechwood product, Sonowood Black, that offers a 'sustainable alternative'. Beechwood is widely available in central European forests, say head of research and development Munish Chanana and chief product officer Christian Lehringer, but because it is naturally softer and less dense than ebony, it is usually unsuitable for making instrument parts. Through a new 'thermo-hydro-mechanical process', they claim to have modified beechwood so that its acoustic properties resemble those of ebony, by exposing it to high compression forces and temperatures. These, they say, increase the wood's density to 1,200–1,400kg/m3 and minimise its natural tendency to swell and shrink.
Swiss Wood Solutions also dyes the wood with natural colouring, to give it a blackish-brown shade. 'Luthiers choose ebony based on colour, not on acoustics,' Chanana explains. 'They test the acoustic properties by trialling different woods once they have purchased them. This is time-consuming. Instead, we can modify and fine tune wood properties such as hardness and density, so if your instrument is too bright, we can offer a fingerboard that helps to dampen the sound.'
The product comprises only natural colours and compressed, heated beechwood, without the use of any harmful chemicals, because, says Lehringer, 'it is a material that people touch, so it should not be harmful.' This being the case, he stresses that this wood, as any other, has inevitable natural variations – although, he adds, 'we aim to achieve superior or at least equal material properties to ebony.' Anyone interested in purchasing Sonowood Black can contact Swiss Wood Solutions to discuss preferred technical specifications, prices and quantities.
Swiss Wood Solutions Sonowood Black prices on request
email info@swisswoodsolutions.ch