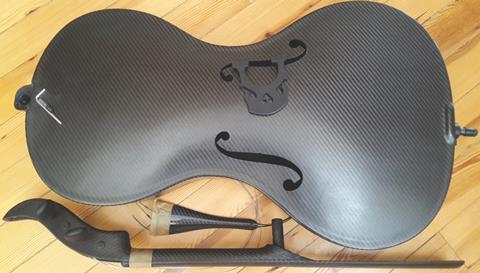 Ready for boarding
An instrument with a detachable neck to make air travel easier
Readers of The Strad will be no strangers to the perennial risks associated with flying with stringed instruments. Barely a week goes by without another story of a passenger denied boarding with their instrument or making a grim discovery at baggage reclaim. For Turkish luthier and engineer Korhan Türk, a solution lay in making the neck of the instrument fully detachable – an innovation that, he says, is only possible thanks to recent advancements in materials science. 'Working with carbon fibre had already allowed us to explore ways of increasing an instrument's resonance,' he says, 'but it's also much more durable than wood, which would not be able to accommodate a weight-bearing mechanism installed inside it. If the neck and body of the cello didn't form a completely robust single unit, no one would want to play it.'
The neck is held in place with a single screw that aligns the neck at the correct angle while tight manufacturing tolerances ensure there is no gap between the components after installation. Untightened using a hex key, the screw releases both the neck-root and tailpiece from the body so that neck, strings and tailpiece can then be carried separately from the instrument body. Korhan is currently developing a case to house the disassembled cello that will measure approximately 85 x 52 x 20cm. The neck and body of the instrument are each approximately 80cm long.
'As well as allowing us to experiment with additional features and adaptations,' Korhan continues, 'carbon fibre is highly stable, unlike wood, and it doesn't react to changes in humidity or temperature. Innovation is inevitable – I would encourage everyone to embrace it.'
Karbon Tasarim carbon fibre cello with detachable neck from €3,890
email karbontasarim@karbontasarim.de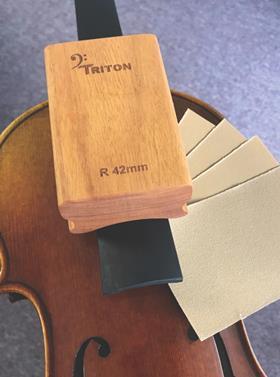 Smooth operator
Made from sustainable South American tiger wood, this sanding block is designed to offer makers a convenient means of shaping a fingerboard. It is available with curve measurements appropriate for violin, viola, cello and double bass and each block is 100mm long. Custom lengths and curve sizes are available to order.
Triton fingerboard sanding block from $21
email info@internationalviolin.com
web www.internationalviolin.com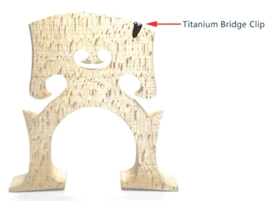 Strong stuff
This titanium clip is designed to protect the wood of the cello bridge against wear from the instrument's relatively high-tension A string. Weighing 0.05g and measuring an adjustable 2.4–2.6mm across the bridge, the clip fits into a groove carved into the wood. According to the manufacturer, it provides a durable surface for the string to grip without impeding the acoustic properties of the instrument set-up.
Stradpet titanium cello
bridge clip from €10 for four
email stradpet@stradpet.com
web www.stradpet.com