A case designed to protect your double bass from damage when you're on the go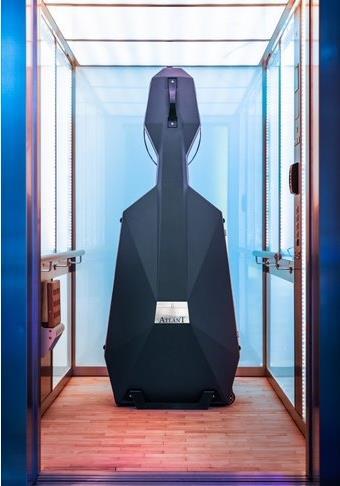 After seeing his centuries-old double bass damaged by baggage handlers, Igor Eliseev, solo bassist of Norway's Stavanger Symphony Orchestra, took matters into his own hands. 'There was no case on the market that could guarantee complete protection,' says Eliseev, 'so I made one myself.'
Collaborating with the University of Stavanger and the Samara State Aerospace University in Russia, Eliseev 'started from scratch' to create a case to rival the 'old designs and materials still used for current bass cases'. The result is a case with a shell comprising more than 20 materials, including Kevlar and carbon fibre. They are merged by vacuum infusion, where resin is driven into the laminate to create a new material combining the others' strengths. Eliseev claims that inside the case, his patented suspension system separates outside impacts from the bass by allowing the instrument to 'float' independently. This is in addition to a monocoque construction, where the outer skin is designed to absorb external pressures.
Testing took three years and included repeatedly dropping the case from a height of three metres to see how it would cope if badly handled. They also lent it to touring orchestras, to find out how it would fare in the cargo holds of planes, ships and trucks, and say that it revealed no signs of structural damage.
Each case is produced in Norway and has seven exterior butterfly locks, six handles and four wheels for ease of transport. 'It was important for me to create a case that, in addition to safety features, was easy to handle,' Eliseev explains. He also claims that, at 16kg, it is over 4kg lighter than other travel cases on the market. It fits all basses sized 3/4 and up, comes with a year's free insurance, and can be made to order in any colour. Further customisations are available on request.
Eliseev Atlant Bass Transportation Case
NOK40,000 (£3,500) before customisations
email office@eliseevcases.com