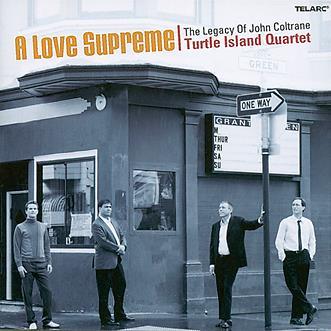 The Strad Issue: January 2007
Musicians: Turtle Island Quartet
Composer: Various
The Turtle Island Quartet pays tribute to John Coltrane in this series of highly creative yet sensitive arrangements of his music. The players cover the groundbreaking Love Supreme suite and some of his other best-known tunes, as well as several compositions to which Coltrane was more indirectly connected.
The quartet members are no strangers to this music. As Bob Blumenthal's informative booklet notes mention, they have been earnest jazzers since their student days, and it shows. Both the arranging and performance aspects of the album are extremely stylish throughout. Mark Summer's earthy walking cello pizzicato swings convincingly, while the inner parts crackle and spit, responding well to the often difficult writing that, in its depth of rhythmic variety, evokes the improvised comping of a rhythm section. The closing version of So What is original and sophisticated, allowing the group to show off its considerable improvisational fluency in extended form.
At the album's heart, Love Supreme inevitably grabs the attention. It is hard – if one is familiar with Coltrane's own interpretation – to come to terms immediately with the considerable differences on show here. Some of the original quartet's power and exuberant spontaneity is lost, replaced by ambitious, imaginative arranging that naturally sounds pre-conceived. Nevertheless, the feel of the music – from Coltrane's cellular approach to solo construction to pianist McCoy Tyner's chordal proliferations – is admirably retained and recast intelligently in a medium more suited to a string ensemble. Plucking the Coltranian sound world out of its original habitat is a bold move, but in this case it definitely pays off.


Chris Elcombe