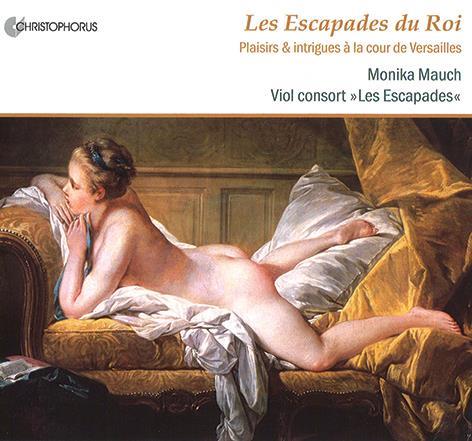 The Strad Issue: January 2011
Description: A novel programme that uses French viol music to narrate a story of love winning out
Musicians: Monika Mauch (soprano) Les Escapades
Composer: M.-A. Charpentier, Marais, F. & L. Couperin, Forqueray, Lully, Visée, L'Affilard, Rossi, Montéclair & Lalande
Using music by composers who worked for the court of Versailles, Les escapades du Roi tells an imaginary story of a young provincial beauty who, having arrived at court, becomes the King's favourite. Her rivals manage to besmirch her name, but true love wins out. Having opened with Marc-Antoine Charpentier's Overture and Air, the story is then divided into eight sections, the title of each work and the words of the soprano airs fitting the imagined scenario.
It was an era when French viol music reached its zenith, and its emphasis on refinement and beauty ideally suit the German-based group Les Escapades, whose smooth projection, impeccable intonation and ideal instrumental balance create a texture that is light and transparent.
Most of the 16 tracks are of modest length, the exception coming in a performance of Charpentier's Concert pour quatre parties de viols, a score of particular charm. The group's excellent violinist Swantje Hoffmann takes on a solo role in François Couperin's Sonata 'La Sultanne', one of the few works where outgoing virtuosity is required.
Monika Mauch's limpid voice sits comfortably within the accompaniment, and the warming resonance of the venue produces a very pleasing sound.



DAVID DENTON