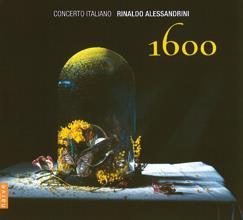 The Strad Issue: January 2012
Description: A vivid portrait of a key century in the development of instrumental music
Musicians: Concerto Italiano/Rinaldo Alessandrini (harpsichord, organ, director)
Composer: G. Gabrieli, Merula, Salvatore, Macque, Frescobaldi, Castello, Zanetti, Marini, Legrenzi, Bononcini, Torelli, dall'Abaco & Anon
Rinaldo Alessandrini's fascinating programme of largely 17th-century instrumental music showcases most of the forms embraced by composers during the period. Presented essentially in chronological order, the representative works demonstrate progression, are sharply contrasted and sustain interest throughout.
Central to the programme, as well as to the century, are Castello's Sonata a quattro no.16, with its second movement descriptive of a battle, dances extracted from Zanetti's pedagogical treatise Il scolaro…per imparare a suonare di violino and a passacaglia by Marini. Earlier works include canzonas by Giovanni Gabrieli, Merula, Frescobaldi and Salvatore and a transcription by Alessandrini of Merula's keyboard Capriccio cromatico. A sonata by Legrenzi, Bononcini's Sinfonia no.4 and concerti a quattro by Torelli and dall'Abaco display the long 17th century's repertoire in full flower.
Alessandrini and Concerto Italiano perform with clean-cut precision, an engaging stylishness and innate musicality, making the most of the striking dissonances, inventive chromaticism, intricate counterpoint and ornamental opportunity on offer, notably in Frescobaldi's Canzona quinta a quattro. Dance movements, too, are sharply characterised, particularly the seven extracts from Zanetti's treatise. Alessandrini rings the changes in the continuo as appropriate between his own harpsichord and organ support and Ugo di Giovanni's sensitive theorbo contribution. The recording is warmly resonant.



ROBIN STOWELL