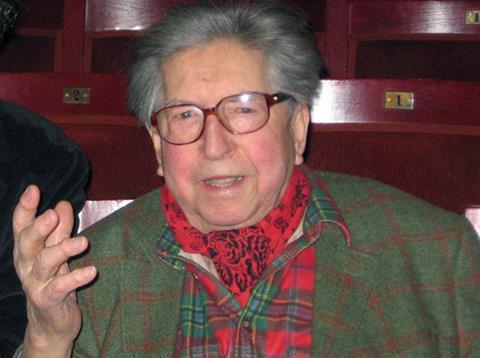 French composer Henri Dutilleux died on 22 May 2013 at the age of 97. His many works for strings included the 1976 quartet Ainsi la nuit, Here is a performance by the Belcea Quartet.
I. Nocturne - Parenthèse I
II. Miroir d'espace - Parenthèse II
III. Litanies - Parenthèse III
IV. Litanies II - Parenthèse IV
V. Constellations
VI. Nocturne II
VII. Temps suspendu

Ainsi la nuit ('Thus the night') is one of only a handful chamber works by Dutilleux. It was commissioned by the Koussevitzky Foundation to be performed by the Juilliard Quartet. The compositional process took nearly five years, during which Dutilleux familiarised himself with stringed instruments and studied scores of works such as Anton Webern's Six Bagatelles and Alban Berg's Lyric Suite. The Parrénin Quartet actually premiered the work in 1977, but the Juilliard Quartet eventually performed it at the Library of Congress in Washington DC the following year.
Dutilleux photo: Schott Promotion / Milan Wagner