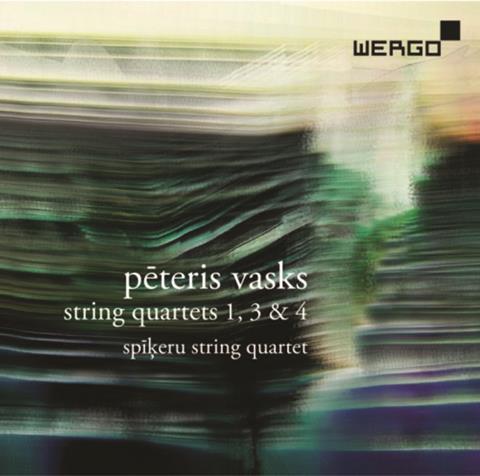 THE STRAD RECOMMENDS
The Strad Issue: September 2016
Description: The Spīķeru closes the circle of the Latvian composer's quartets
Musicians: Spīķeru Quartet
Composer: PÄ"teris Vasks
Catalogue number: Wergo WER 7330-2
PÄ"teris Vasks knows what he wants to say in these consoling quartets. Some have criticised the Latvian's music for its lightness of material. But in these focused conversations, Vasks's idiom is both happy and effective with the minimal material the composer bestows on it.
The works here span three decades but there's a consistency of approach. In the First Quartet (1977) we hear the composer offsetting tortured, frantic statements with a strained, slow chorale. He does the same in the Fourth Quartet (1999), though the overarching design in this piece, with its giant, transcendent final 'Meditation', is more satisfying. The Third Quartet (1995), with its nature noises, distinctive Latvian folk dance and tense Adagio, links the two. (The previous volume on WER 7329-2 has the Second and Fifth quartets.)
The SpÄ«Ä·eru Quartet is on the ball when it comes to Vasks's quartet hallmarks: distinctive textural lightness, melodies that need a combination of strength and vulnerability and fragile unisons (the last are particularly well served here by the players' sparing use of vibrato). Most of all, the ensemble knows absolutely when to tense up and when to loosen off – when to close the circle and when to open it gregariously outwards. The sound is perfect, combining proximity and detail with the depth and resonance of the room.
Andrew Mellor