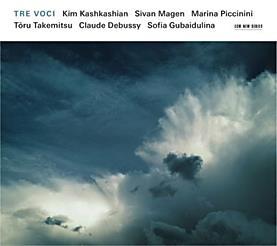 The Strad Issue: May 2015
Description: Three become one in works for Debussy's classic combination
Musicians: Kim Kashkashian (viola) Marina Piccinini (flute) Sivan Magen (harp)
Composer: Takemitsu, Debussy, Gubaidulina
Many good things have come out of the Marlboro Music Festival over the years and the meeting of musical minds on this CD is up there with the best of them. These three performances have been allowed to season over several years before being recorded in 2013. Debussy's Sonata, the iconic composition for this particular combination of instruments, receives a definitive interpretation that reflects its mercurial nature. Its uniquely personal amalgamation of old styles and forms – Pastorale, Tempo di menuetto – with a new harmonic language is realised by the three musicians with absolute conviction, bringing to life both the music's nostalgia and its dancing joy.
Takemitsu's work – its title taken from a poem by Emily Dickinson – references Debussy, even discreetly quoting its beginning, but goes much further in its timbral explorations, as does Sofia Gubaidulina's similarly poetry-inspired work. Both composers require numerous and varied special playing techniques from all three instruments in their typically detailed scores. Their instructions and the musical reasons behind them have been scrupulously internalised by the players, who perform with wonderful clarity, aided by a close but warm recording which enables one to follow their every nuance. The CD's sound quality and sophisticated presentation are typical of ECM's fastidious standards.
CARLOS MARÁA SOLARE