The story of a down-at-luck violinist bringing music to disadvantaged teens in SÁo Paulo has generated positive early reviews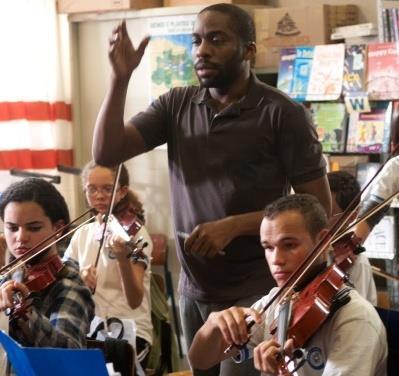 A new film, which explores the power of violin playing to effect social change, will be screened in cinemas, after winning worldwide distribution following a screening at the Locarno Film Festival in Switzerland on the weekend.
Set in Brazil, 'The Violin Teacher' tells the true story of violinist Laerte, who is forced to give lessons to teenagers at a down-at-heel public school in the poor district of Heliópolis in SÁo Paulo, after a disastrous audition with the SÁo Paulo Symphony Orchestra.
Despite the familiar crowd-pleasing set-up, the film, from director-screenwriter Sérgio Machado, has generated a positive first review in Variety, which praises the 'depth and character' of leading man Lazaro Ramos and 'a lively soundtrack that cannily fuses classical standards with favela beats'.
Photo: Variety