The 21-year-old violinist shares her experience of long-distance string tuition as part of the Arco project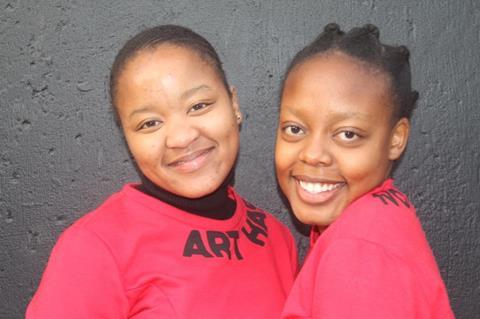 Photo: Arco
Arco students Lesedi Radebe (left) and Sinethemba Ngiba (right)
The following extract is from The Strad's February 2022 issue feature 'Arco project: Evolution of a partnership'. To read it in full, click here to subscribe and login. The February 2022 digital magazine and print edition are on sale now
When Louise [Lansdown] came up with the 'crazy' idea to bring together Soweto and Birmingham, I'm pretty sure she had no idea what a great impact it would have – an impact that goes beyond music; a life-changing impact.
I can still remember my first Skype lesson – I was super-anxious. You know that feeling when the roller coaster has reached its highest point and you're waiting for it to go down? It was exactly that. Just ten times more intense. I had so many questions: What will my teacher be like? Will she like me? It turned out I had absolutely nothing to worry about. The Skype lessons were an amazing experience. The thought of having someone all the way from Birmingham teaching me in Soweto seemed surreal.
My favourite Arco moment definitely has to be the first time the teachers came to South Africa in the summer of 2016. I could actually now touch and speak to my Arco teacher without any buffering in between. What bliss! The week went by so quickly it was hard to say goodbye. However, I believe that that week created an extramusical bond that can never be broken.
If someone had told me that one day I'd be playing the violin I would probably have laughed in their face. I really had no idea that I would play the violin and end up loving it so much. If I were president, I'd make it compulsory for each citizen to play an instrument. But since I'm not, I always encourage my friends and family to learn.
Being a musician has taught me a lot of patience – the first time, you won't get it; but with practice you will. I've also learnt to be responsible. It's my instrument so I have to take care of it. I need to make sure it's not in the sun. I need to make sure I practise. There are all the little things that need a certain level of responsibility. Lastly, Arco has taught me that there are no boundaries or limits to what you can do. If you really want something you should go after it regardless of what people say.
This article was published in the February 2022 Théotime Langlois de Swarte issue

The Baroque violinist's career has taken off in the past year. Charlotte Gardner talks to him about his quest to popularise the works of long-lost composers. Explore all the articles in this issue . Explore all the articles in this issue

More from this issue…