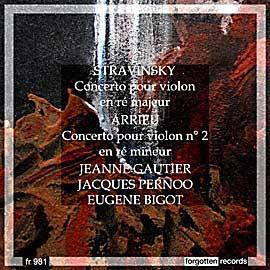 The Strad Issue: January 2015
Description: Welcome revival of a forgotten violinist in 1950s French radio recordings
Musicians: Jeanne Gautier (violin) RTF National Orchestra/Jacques Pernoo, Eugène Bigot
Composer: Stravinsky, Arrieu
The marvellous violinist Jeanne Gautier (1898–1974) has long languished in undeserved oblivion. A superb virtuoso who embodied a quintessentially Gallic blend of astringency and sensuousness, she embraced music of her time, collaborating among others with Ravel and Stravinsky. So it is very apt that this first ever issue of Gautier playing concertos should feature a live performance of Stravinsky's, coupled with an appealing, substantial curiosity by the female composer Claude Arrieu (1903–90).
Even though it was recorded in 1956 when Gautier was close to 60 and slightly past her playing prime, her zestful Stravinsky is still highly impressive. She handles the fingerboard exertions with great agility. With a wonderful range of bowing she revels in the spiky, earthy articulations that echo The Soldier's Tale; then, in a twinkle, she turns a phrase with feather-light grace. Crucially, she also brings out the work's oft under-appreciated, poignant lyricism.
Premiered by Gautier, Arrieu's Concerto is a work of considerable scope if lesser cogency, its passing but pronounced reminiscences of Prokofiev's concertos mingling with shades of Milhaud, Poulenc and others (even Britten comes to mind). In this 1959 concert recording, Gautier captures its declamatory intensity and poetry, leaps playfully and with rugged abandon, and takes soulful flight with compelling conviction.
In both performances Gautier and the orchestra interact vividly. One won't find here the utmost clarity of detail but the recording quality is perfectly acceptable.
NATHANIEL VALLOIS