Thomas May talks to the violinist about his Beethoven string quartet cycle — one of the most ambitious projects he's ever undertaken.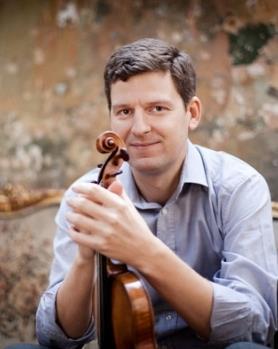 James Ehnes has long been a familiar presence on the international circuit, but he remains known to many music lovers primarily as a solo violinist — a virtuoso who, armed with a stunning technique, also has something compelling to say. When he does appear in chamber programmes, it's often been with a piano partner or in varying chamber formations.
Only last year did his string quartet make its inaugural tour to London and Paris and release their first recording together (an unusual pairing of Khachaturian's Violin Concerto with two Shostakovich quartets, neatly conflating Ehnes's personalities as a concert soloist and chamber player).
But over the past week the Ehnes Quartet has been the focus of the Canadian-born violinist's artistry. With barely time to catch his breath after flying directly from Moscow (he'd been a judge at the recent, gold medal-less Tchaikovsky Competition), Ehnes joined with his ensemble — which also includes violinist Amy Schwartz Moretti, violist Richard O'Neill, and cellist Robert deMaine — to play a Beethoven quartet in each of three programmes comprising a mini-Beethoven Festival. This was the first part of the 2015 edition of the four-week Summer Festival presented by the Seattle Chamber Music Society, where Ehnes has been artistic director since 2012. Along with his quartet performances, he will be back to make music with other colleagues in three more programmes there this month.
To date the Ehnes Quartet has performed ten of the Beethoven quartets, and a lofty goal now stands on the horizon: next June they're scheduled to give their first-ever complete Beethoven cycle in Seoul (where violist Richard O'Neill directs a chamber festival of his own).
'Like any other chamber group, we have periods of intense collaboration and periods when we're doing things on our own', Ehnes told me the day after the Beethoven Festival had concluded. 'It's just that the ratio is different from what you find with many other groups. But the amount and intensity of what we do outside the quartet are what we feed off of when we get back together. The fact that our different schedules make rehearsing together more difficult — there are a million reasons not to do this — means that our motivation couldn't be purer.'
And there's something inevitable about Ehnes's decision to form a quartet. Now 39, he grew up playing chamber music at the Seattle festival. While still a teenager, Ehnes was invited to perform there by its late founder, Toby Saks, who later groomed him to take over as artistic director. This year marks his 21st consecutive season with the festival. Since 1989 he had played in various ad hoc groups with deMaine and Moretti, and had performed with O'Neill over the past decade. Ehnes recalls broaching the idea of a quartet with deMaine (principal cellist of the Los Angeles Philharmonic) following a rehearsal five years ago. 'The amazing thing is that we both had the same idea that we wanted it to be with Amy and Richard.'
Out of the gate, the foursome began with an ambitious programme of Bartók's Fourth Quartet and Beethoven's 'Harp'. 'It was so intense and stressful, with a ridiculously short amount of time to put this together', says Ehnes. 'But it took only about five minutes into rehearsal for me to realise this is something special.'
What's the key to their compatibility? 'We share the same sound ideal. And we naturally feel pulse and pacing in basically the same way. There are always going to be things on which you need to compromise when you play in any ensemble, but pulse and pacing are so crucial to the musical message that you don't want to compromise here. If you have four people who don't feel timing in the same way, you have to rehearse just to get those details right, and it becomes too much like paint by numbers.'
Ehnes further points to the issue of using limited rehearsal time with maximal efficiency. If some refer disparagingly to this project as a 'part-time quartet', he finds the blend of solo and ensemble work to confer a distinct advantage. 'With a quartet — maybe more than with any other kind of ensemble — there has to be a careful balance between the precision and refinement necessary to make these pieces work on the one hand and spontaneity on the other. Sometimes there's a real danger with quartets that if you don't know where to stop in terms of drilling the details in rehearsal, you can suck the life out of a piece. It becomes playing by formula instead of by feel.'
As an example he cites their recent preparation of Beethoven's Second 'Razumovsky' Quartet (op. 59, no. 2), which, in technical terms, he considers the most challenging of the three quartets they had played over the week. 'The 'Razumovskys' are so perfectly crafted, the challenge of the first violin part when you're learning with the group is to recognise those spots that are pure recitative and require an enormous amount of improvisatory freedom. In the first rehearsals there were passages were I was playing too correctly in time, with too much polish. But it's hard to find that balance of refinement and abandon.'
With Beethoven's final quartet, the op. 135 — which they played on Friday night — Ehnes comments on the difference between technical and interpretive challenges. While not as difficult from a technical standpoint as the E minor Quartet from op. 59, the late Beethoven score 'requires so much experimentation, like peeling away layers of confusion in order to reveal something underneath that is extremely clear'.
Ehnes says that shifting between his work as a soloist and as a quartet player in itself isn't difficult: it really comes down to 'playing the repertoire in the way it's asking to be played'. The biggest challenge is 'more mundane. If I've been playing concertos and recitals for several weeks and come back for a quartet, where I have to play sitting down for leverage and sound production, that takes some getting used to again.'
Whether he's focusing on a concerto or a Beethoven quartet, Ehnes always performs on his signature 1715 'Marsick' Strad: 'I know a lot of my colleagues don't feel this way, but I would rather have a comfort level with an instrument and bow where I can do the different things I want to do with them rather than try to find a different instrument that might be particularly well-suited to certain repertoire. For me that's the definition of a great instrument: something that can do many things.'
The Seattle Chamber Music Society's 2015 Summer Festival runs from 6 July to 1 August.
Read: I never practise scales and studies from books, says violinist James Ehnes
Photo: Benjamin Ealovega
Subscribe to The Strad or download our digital edition as part of a 30-day free trial. To purchase single issues click here.