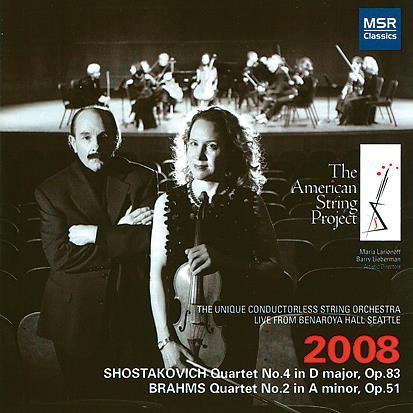 The Strad Issue: January 2010
Musicians: American String Project
Composer: Shostakovich, Brahms, Dvorák:
It was Barry Lieberman's irritation that his double bass was so little used in chamber music that prompted him to add his own part to well-known quartets and quintets. From those modest beginnings has grown a series of arrangements for small string orchestra culminating in the 'American String Project'. I was very much taken by his version of Schubert's 'Death and the Maiden' Quartet (reviewed in October 2008), but I have misgivings over Shostakovich's Fourth Quartet, where the acerbic elements in the opening movement are smoothed out by the extra padding. If the heavy bass line for the third movement does alter the original character, Lieberman's arrangement does at least bring an extra dimension to the more extravagant of the composer's colours, and the contorted dance in the finale is entirely successful.
The Brahms quartet is more conducive to the added weight, the resulting texture reminding one, rather bizarrely, of Schoenberg's Verklärte Nacht, the long opening movement becoming a powerful statement. The scherzo dances with delight, though Lieberman cannot generate the power in the finale to balance the opening allegro.
The Shostakovich reveals some edgy intonation high on the violins, but the Brahms is finely played. Audience response draws a delightful Dvorák encore. Good sound quality.
DAVID DENTON