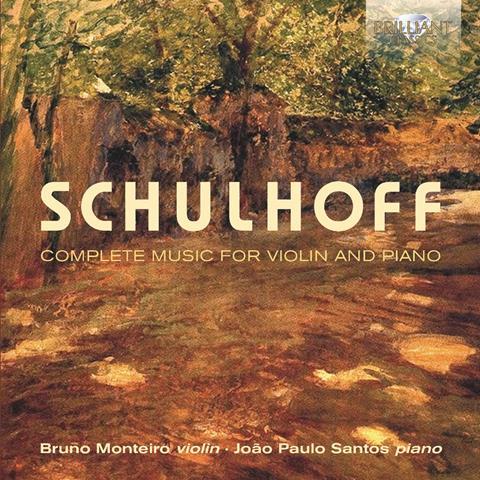 Description: Monteiro's complete Schulhoff feels like a wasted opportunity
Musicians: Bruno Monteiro (violin), JoÁo Paulo Santos (piano)
Composer: Schulhoff
Catalogue number: BRILLIANT CLASSICS 95324
First the complete Szymanowski, now Schulhoff: Bruno Monteiro is to be commended on his choice of repertoire. Unfortunately that is about all there is to say positively about his artistry. This new disc suffers from the same problems I found with his Szymanowski (reviewed August 2015): tonal acidity that could strip paint, queasy vibrato, general gloopiness and overall a sense of being out of his depth. He may make a decent stab at finding all the right notes, and in the right order, but there's a seat-of-the-pants sense to the whole programme that feels more like a sightreading run-through than a thoroughly honed performance.
Take the Solo Sonata, where he's obviously most exposed. Schulhoff is meticulous in his marking of articulation and dynamics but Monteiro plays the whole first movement at a forte staccato and, despite playing this supposed Allegro con fuoco at about half the marked metronome indication, still sounds desperate. Comparison with Tanja Becker-Bender, whose Hyperion disc features the same four works (reviewed March 2011), reveals a wholly different piece; mercurial and virtuoso, with playing throughout that is controlled, tonally varied and persuasive. JoÁo Paulo Santos is a decent duo partner in the other pieces on this Brilliant Classics CD but neither his performance nor the recorded sound are recompense for such un-brilliant violin playing.
MATTHEW RYE