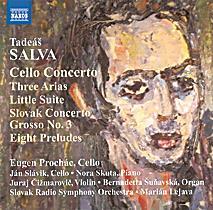 The Strad Issue: eptember 2012
Description: An invigorating disc of music from a postwar Czech modernist
Musicians: Eugen Prochác, Ján Slávik (cello) Juraj ?ižmarovi? (violin) Nora Skuta (piano) Bernadetta Š u?avská (organ) Slovak Radio Symphony Orchestra/Marián Lejava
Composer: Salva
Born in what was then Czechoslovakia, Tadeáš Salva studied in Katowice, and it shows. The influence of the Polish avant-garde of the 1960s – Lutoslawski, Penderecki, even Górecki – is readily apparent in his colourful, vibrant early music, as exemplified on this wide-ranging disc by his 1967 Concerto for Cello and Chamber Orchestra. Written for the unlikely combination of solo cello, piccolo, cor anglais, bass clarinet, violin, double bass and a huge battery of percussion, it has a sound world that's immediately striking, and Slovak cellist Eugen Prochác, professor at the Bratislava Conservatoire, really lets rip in the piece's jagged melodies and theatrical flourishes with dramatic, often fiery playing.
The disc's other works, all based around the cello (Salva's first instrument) but from much later in the composer's career, seem quite tame in comparison. The Three Arias (1990) are marked by a free-wheeling diatonicism and syncopated, driving rhythms, but Prochác's lithe playing is rather overshadowed by the far more prominent piano part, which Nora Skuta dispatches efficiently.
Prochác gets more of a chance to shine in the touching miniatures of the Little Suite (1989), and there's an openness to his playing here. He's joined by Ján Slávik for characterful performances of the Eight Preludes for two cellos, left unfinished at the composer's death in 1995. But the 1987 Slovak Concerto grosso no.3 takes us back to invigorating sonorities with its ear-bending combination of violin, cello and organ, and even sounds a little like Philip Glass at times. Violinist Juraj ?ižmarovi?'s bright-toned playing has just the right rhythmic bite, and she and Prochác bounce off each other to delightful effect. Recorded sound, while clear and warm, also leaves the cello slightly obscured at times.



David Kettle