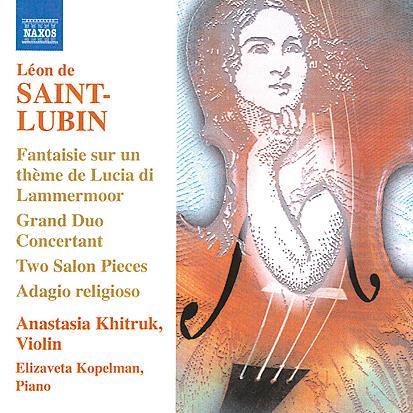 The Strad Issue: January 2009
Musicians: Anastasia Khitruk (violin) Elizaveta Kopelman (piano)
Composer: Saint-Lubin
That the life and work of Léon de Saint-Lubin (1805–50) are not better known is proof that the verdict of history is not always a fair one: the music on this disc is colourful and far from insubstantial. Saint-Lubin's debt to Paganini is evidenced in the technical feats necessary in this material, especially in the Fantasie sur un thème de Lucia di Lammermoor and Thème original et Etude de S. Thalberg. While the op.47 pieces are a little inconsequential, the muscular and confident writing of the Grand duo concertant is evidence of an inventive musical mind. This is material that deserves to be better known and in many respects this excellent disc should do much to boost Saint-Lubin's present-day reputation.
Notwithstanding a personal preference for 19th-century music played in our best understanding of a 19th-century way, these are excellent performances. The tone is set in the opening movement of the Grand duo, which is lively and exciting, but also wonderfully rich in colours and subtleties, especially on the G string. Anastasia Khitruk's playing is of the very highest order, and Elizaveta Kopelman's pianism is equally exact and charismatic. Khitruk, trained at the Mannes and Julliard schools, is unquestionably a talent of the first rank and Kopelman, a fellow ex-Muscovite, proves a worthy and entirely equal duo partner.
Once again, Naxos demonstrates its credentials as an enterprising label, and the recording quality is magnificent, with an excellent balance of clarity and depth to the sound. Highly recommended.
David Milsom