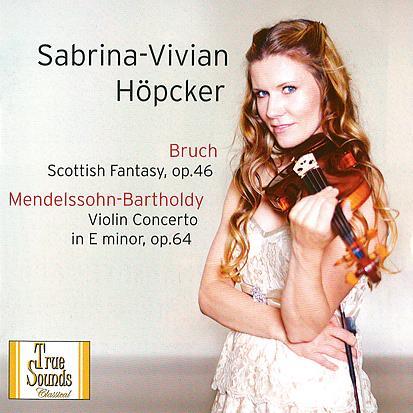 The Strad Issue: January 2010
Musicians: Bruch: Scottish Fantasy op.64. Mendelssohn: Violin Concerto in E minor op.64
Composer: Bruch, Mendelssohn
Although Sabrina-Vivian Höpcker has established a place for herself among today's gifted young German violinists, I cannot understand why at this early stage in her career she has brought this concert performance of the Mendelssohn concerto to an already vastly over-subscribed catalogue. It is a youthful account that dashes into the virtuoso moments, and then settles back to savour passages of beauty at leisure. I much enjoy the tonal elegance of the slow movement, but in the outer movements there are blemishes that would have been sorted out under studio conditions, and though the Göttingen orchestra is reliable enough, many other recordings enjoy some of the world's great ensembles.
Bruch's Scottish Fantasy, taken from another concert, is markedly better, her unhurried tempos showing a sensitive performer of great potential. Neither violinist nor conductor has an inherent feel for the Scottish idiom, and the need to clip notes to bring the 'snap' to the dance rhythms is never explored. The highlight is Höpcker's fiery and vivacious finale that showcases an admirable technique with nice crunchy chords. A vibrant and totally satisfying orchestral backdrop from the Northwest German Philharmonic comes in good sound quality, preferable to the rather opaque Mendelssohn.



DAVID DENTON