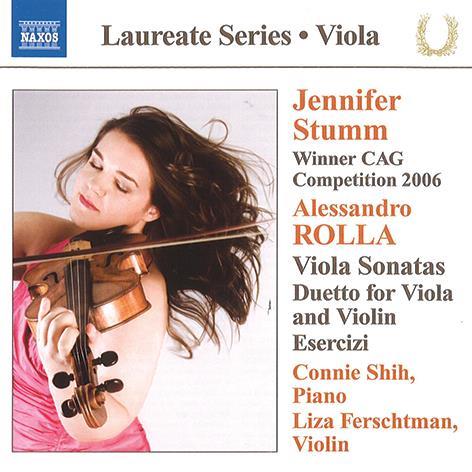 The Strad Issue: January 2011
Description: Advocacy for a little-known composer needs more of a sense of his period
Musicians: Jennifer Stumm (viola) Liza Ferschtman (violin) Connie Shih (piano)
Composer: Rolla
Alessandro Rolla (1757–1841), who appears to have given Paganini lessons in 1795, is now relatively unknown but was clearly a composer of merit. The three Esercizi, for example, are works of technical ambition, achieved with an effortless conjunction of melody and invention.
Otherwise, though, this recording is thoroughly conventional, notwithstanding the lavish description of Primrose Competition winner Jennifer Stumm as a 'musical innovator' on the disc packaging. Certainly, Stumm (along with Liza Ferschtman and Connie Shih) is an immaculate player, with unimpeachable accuracy and clarity, but I find little here that is innovative. Thus, the Duet in A major evidences (from both violinist and violist) an over-assertive stance in the opening Romanza, while we have off-string bow strokes in the Esercizi and a slightly wearing vibrato that has the modern mannerism of becoming more obvious at the end of a note, irrespective of the musical significance – something that seems rather out of place.
This said, listeners happier than I to acquiesce to modern practice will find the disc well presented and, as usual, Naxos give it enough ambience to sound life-like without becoming diffuse.


David Milsom