Casella: Concerto per archi op.40, Cinque pezzi op.34. Turchi: Concerto breve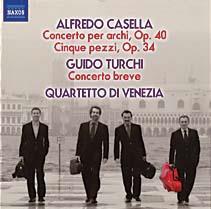 The Strad Issue: January 2014
Description: A welcome airing for a forgotten area of Italian instrumental music
Musicians: Venezia Quartet
Composer: Casella, Turchi
Naxos's 19th- and 20th-Century Italian Classics series has done sterling work in bringing into the spotlight forgotten repertoire by a number of Italian composers – Casella, Alfano, Ghedini and others – who largely avoided the operatic medium. This latest release is a bit of a mixed bag, in terms of repertoire at least.
Performing works by Alfredo Casella (1883–1947) and Guido Turchi (1916–2010), the Venezia Quartet opens unpromisingly with Casella's 1923 Concerto for Strings. Apart from its second movement, alternating a lilting Siciliana with a children's song, it's an almost wholly pedestrian piece, and certainly no kind of vehicle to show off the quartet. Casella's Five Pieces of three years earlier are more adventurous and here the players revel as much in the 'barbaro' style of the opening Prelude as in the mysteriousness of the second movement's muted berceuse. The 'Valse ridicule' (third movement) is played almost deadpan, to great effect.
Closing the disc is Turchi's Short Concerto. Written over 20 years after the two featured Casella pieces, it's more adventurous harmonically and the players keenly convey its more troubled nature. The group is slightly let down by a dryish, almost boxy sound, though that shouldn't deter those interested in this repertoire.


Edward Bhesania