Song transcriptions that delightfully channel the viola's inner poet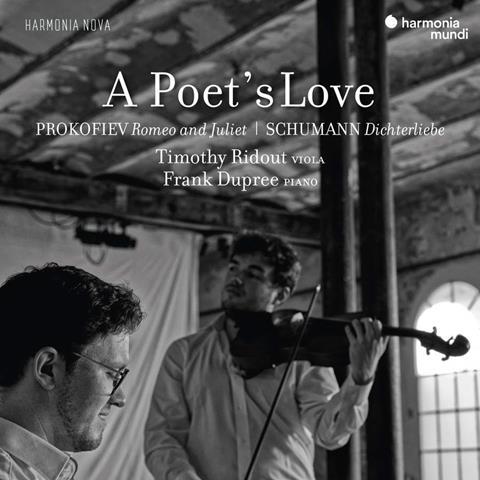 The Strad Issue: October 2021
Description: Song transcriptions that delightfully channel the viola's inner poet
Musicians: Timothy Ridout (viola) Frank Dupree (piano)
Works: Prokofiev: Selected Pieces from Romeo and Juliet (arr. Borisovsky). Schumann: Dichterliebe op.48 (arr. Ridout)
Catalogue number: HARMONIA MUNDI HMN916118
Even as a recalcitrant sceptic when it comes to transcriptions of songs for a wordless instrumental medium – particularly when, as in A Poet's Love, those words are by Heinrich Heine – I confess to having capitulated unconditionally to this heartfelt rendition of Schumann's masterful song cycle on the viola.
For the most part, Timothy Ridout has adapted the voice part one-to-one for his instrument. His use of the C string for several particularly intense passages contrasts most effectively with the otherwise preferred 'soprano' register. A few idiomatic double-stops spice up one of the songs, while in another, Ridout takes over the piano's running semiquavers to exhilarating effect. He varies his sound astutely on repeated verses, bringing forth from his Peregrino Di Zanetto instrument myriad colours that bear testimony to his profound love of this music.
Having made their mark in Schumann's intimate sound world, Ridout and his ideally attuned partner Frank Dupree tackle the very different demands of Vadim Borisovsky's redoubtable Prokofiev transcriptions with great panache. With crisp articulation, 'Young Juliet' and 'Mercutio' whizz by in no time, while the climaxes in 'Dance of the Knights' and 'Balcony Scene' resound mightily. Ridout's selection of seven movements (from the eleven transcribed by Borisovsky) ends with the eerie harmonics that evoke Juliet's death, which sound crystal-clear in the welcoming acoustics of the atmospheric Provençale location, La Courroie.
CARLOS MARÍA SOLARE