Not just a violinist – PatKop's singing alter ego is extraordinary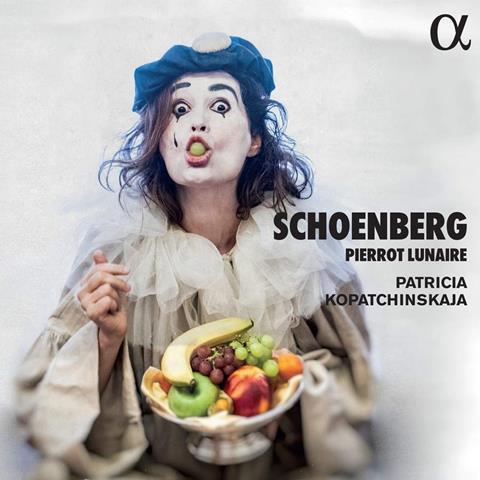 THE STRAD RECOMMENDS
The Strad Issue: June 2021
Description: Not just a violinist – PatKop's singing alter ego is extraordinary
Musicians: Patricia Kopatchinskaja (voice, violin) Meesun Hong (violin, viola) Júlia Gállego (flute) Reto Bieri (clarinet) Marko Milenković (viola) Thomas Kaufmann (cello) Joonas Ahonen (piano)
Works: Schoenberg: Pierrot lunaire; Phantasy for violin and piano op.47; Six Little Piano Pieces op.19. J Strauss II: Emperor Waltz (arr. Schoenberg). Webern: Four Pieces for violin and piano op.7. Kreisler: Little Viennese March
Catalogue number: ALPHA CLASSICS ALPHA 722
It was while recovering from a hand injury that violinist Patricia Kopatchinskaja channelled her musical passions into learning the vocal part of Schoenberg's Pierrot lunaire (see February's Session Report), and she's been performing the work since 2015. So, despite the unusual change of performance medium seldom encountered in classical music, it should probably come as little surprise how astonishingly accomplished the violinist's vocal performance is – nor, in fact, that she approaches Schoenberg's expressionist vocal gymnastics with the same fierce commitment and larger-than-life expressiveness that make her violin playing so extraordinary.
Her Sprechgesang is breathtakingly effective, and brilliantly supple too: she occasionally sings 'straight', more often slides around and between Schoenberg's pitches, and on rare occasions leaves them behind entirely, wailing or screeching to hair-raising effect. She has a light, somewhat fragile tone that captures her character's vulnerability and mischievous wit, yet she's able to summon immense, unnerving power at the drop of a hat. Her 'Galgenlied', for example, is virtually spat out, and 'Die Kreuze' declaimed at the top of her voice. Indeed, all her vocal flamboyance serves the purpose of characterising her slippery, multi-personality Pierrot, seldom sincere, often sarcastic, occasionally furious and a lot of the time very vulnerable. She receives support that's just as intense and committed as her own delivery from her international ensemble, captured in crystal-clear recorded sound that conveys every last articulation of their playing.
If you miss PatKop the violinist, however, she fills the rest of the disc with a searingly intense Schoenberg Phantasy, a masterclass in technical prowess and vivid storytelling in Kopatchinskaja's vivid account, and an almost impressionistic reading of Webern's Four Pieces. By way of stark contrast, all the players come together to devote just as much care and attention to a joyful and really rather moving Emperor Waltz in Schoenberg's chamber arrangement.
DAVID KETTLE