Classical cello works that contain more than a few sketches of Spain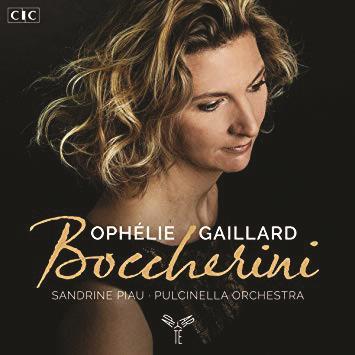 The Strad Issue: July 2019
Description: Classical cello works that contain more than a few sketches of Spain
Musicians: Sandrine Piau (soprano) Pulcinella Orchestra/Ophélie Gaillard (cello)
Works: BOCCHERINI Concertos for cello in D major (G479) and B flat major (G482); String Quintet G324 'La Musica Notturna delle Strade di Madrid'; Cello Sonata no.2 in C minor (G2); Symphony no.6 'La Casa del Diavolo' (G506); Stabat Mater (G532)
Catalogue Number: APARTEMUSIC AP194 (2 CDs)
Somewhat eclipsed by his illustrious contemporary Haydn, Luigi Boccherini was nevertheless a seminal figure in the development of cello playing, making the higher registers an integral part of the vernacular, alongside fiercely challenging thumb positions and double-stops. His elegant turn of phrase is a mix between galante and classical, a style Ophélie Gaillard perfectly encapsulates in this imaginative collection of works.
In both the D major and B flat major concertos, Gaillard ensures each phrase is shaped and defined by sharply executed articulation, as well as delivering the florid passagework and dexterous string-crossings with tremendous aplomb. Virtuosity sits easily here. I particularly like the line-up in the Pulcinella Orchestra, which includes a guitar, fortepiano and solo strings. The texture is thus gloriously light and transparent, with a strong perfume of Spanish rustic invention, particularly defined by the punchy guitar chords that grace the B flat major Concerto's finale. Does Boccherini absorb Spanish folk elements here? As he was a 'resident for over 40 years' in Spain that would seem likely, and it's a trait that is overtly reflected in the atmospheric String Quintet entitled 'La Musica Notturna delle Strade di Madrid'. In this performance you really sense the excitement and energy from a street scene bustling with people.
Yet perhaps the treat of this beautifully recorded double-CD set is the Stabat Mater, with the exquisite voice of Sandrine Piau sensitively accompanied by a string quintet featuring Gaillard as the cellist. Quite lovely.
JOANNE TALBOT