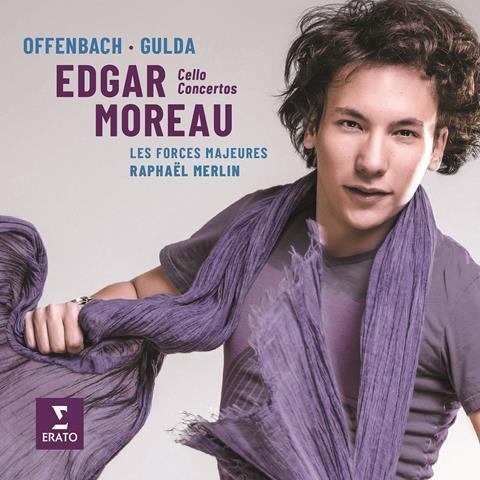 Works: OFFENBACH Grand Concerto in G major 'Concerto Militaire', GULDA Concerto for cello, wind orchestra and band op.129
Musicians: Edgar Moreau (cello), Les Forces Majeures/Raphaël Merlin
Catalogue number: ERATO 0190295526122
Offenbach's Grand Concerto 'Militaire' demands abundant virtuosity. It requires heroic nerve to deliver these pyrotechnics, and Edgar Moreau is a magician of the fingerboard. His command is supreme, much like a general strategically planning troop manoeuvres as his diligent fingers do his bidding. He projects the seemingly endless cascades of 3rds, octaves, false harmonics and flying spiccato with nuanced élan. With its high trills and dazzling passagework, the Finale flies by in a thrilling rollercoaster of aural spectacle and daring feats. But musically it's vapid fare, and the thematic ideas remain pretty unmemorable.
Not so Gulda's Cello Concerto which is – literally – a fantastically bizarre work alluding in places to Weber, Schubert and rock, as well as Sousa marches and Oktoberfest beer music in the uproarious circus parade of the Finale alla Marcia. These diverse elements are all set together in a wild concoction, similar to the episodic dreams in Strauss's Don Quixote. The funky rock moments, particularly in the Overture, are punchy, rhythmic and direct, and the wind-band scoring ensures the cello cuts through the texture with real incisiveness. The recorded sound is clear and well balanced.
Moreau is impeccable in his delivery and elegant in the pastiche cameos of the Idylle and Menuett. Whatever your views on the music on this disc, Moreau proves to be a remarkable artist equipped with a technique of which most people can only dream.
JOANNE TALBOT