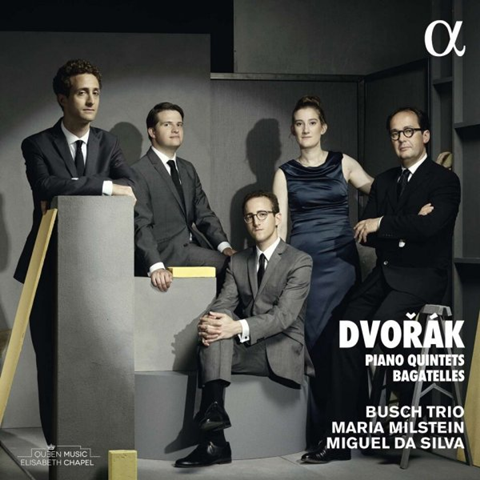 The Strad Issue: October 2018
Description: Spirit and charm of these works is captured with jewel-like precision
Musicians: Busch Trio, Maria Milstein (violin), Miguel da Silva (viola)
Works: DVOŘÁK Piano Quintets: no.1 in A major op.5, no.2 in A major op.81; Bagatelles op.47
Catalogue Number: ALPHA CLASSICS ALPHA 403
This is the third in the Busch Trio's series of four CDs devoted to Dvořák's piano trios, quartets and quintets – as well as, on this disc, his Bagatelles for harmonium trio. First here is his early Piano Quintet, which he destroyed and then revised, in that order (his publisher had kept a copy). The players make much of the bold rhetorical outbursts and emotional intensity of the first movement. In the Andante they bring out many moods, of serenity, anxiety and mystery. It is possible in this performance to hear signs of the awakening opera composer. There is some heated playing in the generally high-spirited finale.
They play the Second Quintet with jewelled precision, full of vivid beauty, thrilling, with snapping rhythms and languid melodic flow. Cellist Ori Epstein shapes the opening melody beautifully, and violist Miguel da Silva is equally fine in both the first and second movements when given his moments in the limelight.
They deftly negotiate the joins in the Dumka: after the return of the melancholy opening section they float effortlessly away into the pochettino più mosso. The scherzo and finale dance irrepressibly along, the embodiment of high spirits. Between the quintets the op.47 Bagatelles exude their beguiling charm. The recorded sound is warm and well balanced throughout.
TIM HOMFRAY