Beautifully judged traversal of op.18 quartets never fails to hit the mark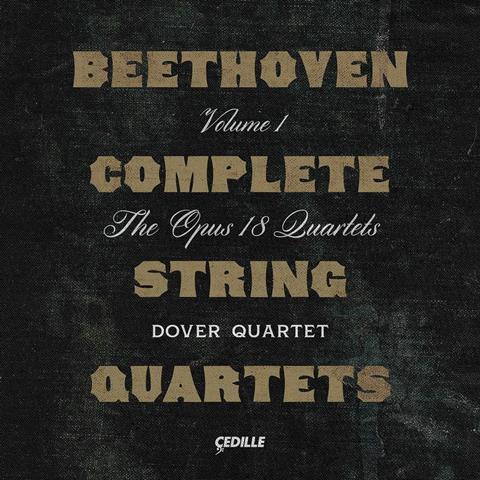 THE STRAD RECOMMENDS
The Strad Issue: December 2020
Description: Beautifully judged traversal of op.18 quartets never fails to hit the mark
Musicians: Dover Quartet
Works: Beethoven: String Quartets op.18 nos.1–6
Catalogue number: CEDILLE CDR 90000 198 (2 CDs)
If in its recent complete survey of Beethoven's cycle of 16 quartets (reviewed in the October issue), Quatuor Ébène rewrites the semantic rule book, recapturing this groundbreaking music's bracing modernity for a contemporary audience, the Dover Quartet returns us to the post-Romantic sound world of, say, the Guarneri and Budapest quartets, but with a beguiling freshness and spontaneity that creates the impression of these relatively early masterworks arriving hot off the press.
If there is a general tendency in op.18 for quartets to fall in one of three main camps: those who focus on technical polish, those who revel in the music's internal structural logic and ingenuity, and those who go behind the notes to uncover hidden expressive continuities – the Dover players manage to unite all three to a remarkable degree. Meticulously balanced (captured in perfectly distanced, undistractingly natural sound), technically clean-as-a-whistle and intonationally immaculate, this fine ensemble – violinists Joel Link and Bryan Lee, violist Milena Pajaro-van de Stadt and cellist Camden Shaw – never sound interpretatively inhibited by a desire for absolute precision. In the dancing opening Allegro of no.5, for example, it is their collective sensitivity to mood and atmosphere that leaves a lasting impression, rather than their fine-honed tonal matching.
In the tricky D minor Adagio slow movement of no.1, some ensembles come perilously near to campness in their fervent desire to wring the last ounce of 'appassionato' intensity out of the music's inexorable, pulsating tread. By comparison the Dover, at a gently flowing tempo, captures the sense of tragic despair with a tantalising poignancy that is deeply touching without resorting to sledgehammer rhetoric. Rarely has Beethoven's C minor expressive archetype been so exquisitely handled as by the Dover players in no.4, whose Mozart-on-steroids emotional trajectory is never allowed to swamp the composer's innate Classicism. Finest of all is the final B flat major Quartet, which is kept invigoratingly and smilingly en pointe, where others have a tendency to don musical hobnail boots.
JULIAN HAYLOCK