Peter Quantrill visits London's Wigmore Hall to hear the recital on 20 November 2021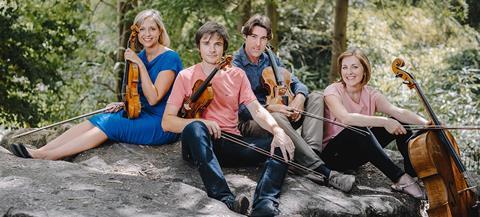 Jonathan Dove has written more than once for the Sacconi Quartet, and it seemed fitting that the premiere of his On the Streets and in the Sky should form the centrepiece of the ensemble's 20th-anniversary concert. This lockdown-composed and -inspired piece may nonetheless come as a surprise to listeners familiar with the meditative stillness of Dove's choral music as well as the off-kilter, melodic minimalism of chamber pieces such as Out of Time.
What draws the ear in to On the Streets (the notes as well as the title seem to nod in the direction of Janáček's piano sonata of 1905) is an even stronger sense of harmonies cast off from their tonal moorings, evoking the uncanny stillness but also anxiety felt by many of us during the first lockdown. The form, too, is more subtly novel than its tripartite outline would suggest. A robin's song written into the 'Lively' second movement serves only to cast a light of wan and passing cheer over the first movement's fitful progress and the muted elegy of the finale.
A spirit of quiet innovation pervaded the entire, beautifully constructed programme. It opened with Mozart's E flat major Quartet K428, boldest and most Haydnesque of the set dedicated to his friend notwithstanding the more obvious claims of the 'Dissonance'. So it seemed here, at any rate, in an account of satisfying inner proportions which nudged rather than leaned on Mozart's audacious modulations, painting an otherworldly tonal landscape in pastel rather than oils. The Sacconis did well, too, not to over-stress the Beethovenian debts of Mendelssohn's A minor Quartet op.13, but rather to explore the expressive connection with both preceding quartets as pieces written out of their time and never fully at peace with themselves.
PETER QUANTRILL
Photo: Alejandro Tamagno