Carlos Maria Solare attends the performance at the Berlin Philharmonie on 17 September 2021, kicking off the Moldovan violinist's tenure as the orchestra's artist-in-residence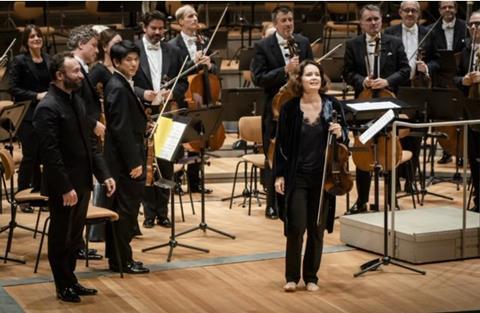 Karl Amadeus Hartmann wrote his Concerto funèbre in 1939, in the wake of Nazi Germany's invasion of Czechoslovakia and as a coded act of protest against it. The piece begins with the violin quoting – almost without accompaniment – the Hussite hymn, 'You who are warriors of God'; in her debut appearance as the Berlin Philharmonic's artist-in-residence, Patricia Kopatchinskaja intoned it with an unbearably moving sound devoid of vibrato, as if humming to herself, so that one had to strain to hear her. In the Adagio she let her dynamic range grow all the way to an almost painfully crunching chord at the top of the fingerboard as if bearing witness to her own dictum (quoted in the programme book) that this music 'bleeds'.
Hartmann originally called this piece Musik der Trauer ('Music of mourning'), and it indeed strongly recalls Hindemith's similarly titled composition from a few years earlier, also scored for string orchestra. This was particularly noticeable in the 'funeral march' rhythms of its second movement and in the soloist's cadenzas that separate the verses of the final section's chorale, where Kopatchinskaja's sound became sensuously golden. Unique to Hartmann's conception is the vertiginous 'Dance of Death' that makes up the third movement, which Kopatchinskaja and the Berliners turned into a rhythmically obsessive tour de force. The orchestra's principal conductor Kirill Petrenko backed his soloist with unobtrusive empathy throughout. After the interval, sorely needed after such an emotionally draining experience as the Hartmann had been, Petrenko conjured from his orchestra a typically clear-headed, transparent reading of Stravinsky's Firebird in its original, brightly coloured 1910 garb.
CARLOS MARÍA SOLARE
Photo: Stephan Rabold