Bruce Hodges listens to the perofrmance at New York's National Sawdust on 2 June 2019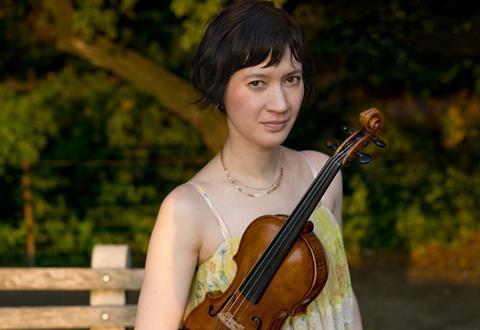 Violinist Miranda Cuckson has devised a compelling career, almost exclusively dedicated to works from the 20th and 21st centuries. Appearing with the string players of the Next Festival of Emerging Artists, she was magnetic in the US premiere of Toshio Hosokawa's Hika (2015), with rhapsodic lines over shimmering tremolos. Cuckson returned for Takemitsu's Nostalghia (1987), a homage to director Andrei Tarkovsky's late film. She and conductor Peter Askim adroitly caught the score's mystery and introspection, her tone floating over the group's delicate, gauzy chords.
On their own, the ensemble of 20 began with Askim's Over Shifting Skies (2019), an attractive tonal essay in a fast–slow–fast structure, which demonstrated the group's cohesion. More delight came from Reena Esmail, whose Teen Murti (2018) is based on Indian ragas. A quiet drone is interrupted by a series of modal, rhythmically vigorous gallops, merging Indian and Western aesthetics to dramatic effect.
Composer Aaron Jay Kernis was on hand to introduce Sarabanda in Memoriam (2004). Its exploration of grief closed the night on a subdued note, with its closing chorale-like figure particularly moving.
BRUCE HODGES