Leah Hollingsworth attends the performance at Shalin Liu Performance Center, Rockport, MA, US, on 11 July 2021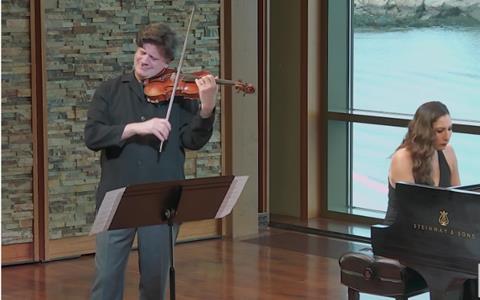 Certainly Bach's D minor Chaconne is a virtuosic undertaking for any violinist; performing it on the viola brings another level of difficulty. While at times I missed the sweetness of the violin, violist and Rockport Music Festival artistic director Barry Shiffman played the movement on the viola with tremendous agility and intelligence. The Chaconne takes on a much darker and deeper character on the instrument, and Shiffman's excellent sense of timing and impressive intonation throughout the double-stops yielded a more than satisfying performance.
Shiffman's relaxed introduction to the three Florence Price works that followed the Bach – as well as his introduction for pianist Tanya Gabrielian – gave the feeling of being at a summer music festival, and it was a pleasure to hear these pieces in this context. Price's Fantasie no.1 in G minor (1933) had a French feel, at times reminiscent of Debussy or Ravel in the duo's lilting interpretation. The technically difficult opening and closing of the work were played effortlessly by Shiffman. Adoration for violin and piano (1951) was soulful and again performed with impressive ease and agility. The Fantasie nègre no.1 for piano (1929) closed the Price portion of the set, and Gabrielian gave a moving performance.
Brahms's Viola Sonata in F minor provided a passionate ending to the concert, played with strength and seriousness. Shiffman's facility and technical mastery afforded his performance a certain openness which I found particularly notable in the second movement, which was quite beautiful. The Allegretto grazioso was full of light and optimism, a joy to hear. The performance ended with energy and appropriate bravura.
LEAH HOLLINGSWORTH