Gems from British composers captured by an outstanding violin and piano duo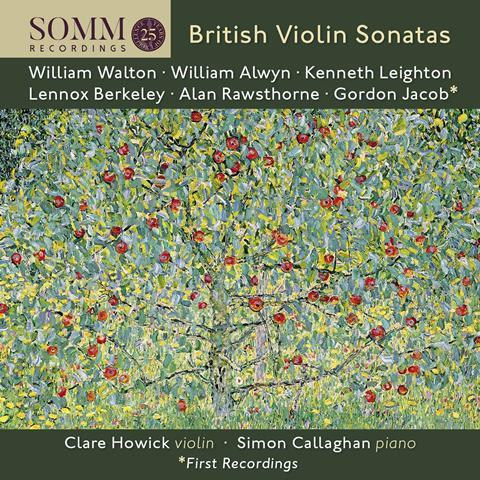 THE STRAD RECOMMENDS
The Strad Issue: June 2020
Description: Gems from British composers captured by an outstanding violin and piano duo
Musicians: Clare Howick (violin) Simon Callaghan (piano)
Works: Music by Walton, Alwyn, Jacob, Leighton, Rawsthorne and Berkeley
Catalogue Number: SOMM RECORDINGS SOMMCD 0610
This is a glorious programme, including premiere recordings of three captivating miniatures by Gordon Jacob – the Elegy, Caprice and Little Dancer – played by Clare Howick and Simon Callaghan with arresting sensitivity, captured in radiant, velvety sound and further enhanced by exemplary annotations from Robert Matthew-Walker.
Such is its occasional virtuoso brilliance that some players attempt to imbue the Walton Sonata with a rapier, Heifetz-like precision. Yet, Howick and Callaghan (like Kenneth Sillito and the late Hamish Milne on Chandos) go deeper, relishing the music's occasionally quixotic changes of mood and glowing lyricism. Kenneth Leighton's similarly volatile First Sonata combines neo-Classical precision with an espressivo cool that emerges here with a soaring imperativeness that grips the attention from first note to last.
Yet arguably the star item is an exquisite performance of William Alwyn's Sonatina that captures the music's post-Romantic inspiration to spellbinding effect. Played like this, with such glowing affection and lyrical intensity, one can easily understand Alwyn's frustration at often being overlooked by critics distracted by the latest modern fads and fancies.
Providing the icing on the musical cake are Alan Rawsthorne's waltzing Pierrette and Lennox Berkeley's Elegy and Toccata, the latter thrown off with sparkling panache by this outstanding duo.
JULIAN HAYLOCK